Kenai Riverfront Resort Location
&
Kenai Peninsula Maps
Kenai Riverfront Resort is located on the Big Eddy Peninsula of the Lower Kenai River in the heart of the best King, Red & Silver Salmon fishing the river has to offer.  We're less than 3 miles from the town of Soldotna and roughly 8 miles from the town of Kenai. With ample fishable river frontage and two acres of beautiful grounds, our location is a great choice for your summer getaway or fishing adventure. A rocky shore, with great bank fishing access, a private boat launch, and a beautiful view of a wilderness island, you'll soon forget how close you are to the modern conveniences of our small towns of Kenai and Soldotna. And, many of the most productive King Salmon and Silver Salmon fishing holes are accessed easily by boat from Kenai Riverfront Resort!
Driving Directions: Take the Seward Hwy from Anchorage, past Girdwood & Portage, through Summit Lake Area, and watch for the Sterling Highway (Highway #1) as you near Cooper Landing and turn right onto the Sterling Highway (in the direction with signs leading to Kenai/Soldotna/Homer).  Follow the Sterling Hwy through Cooper Landing toward Soldotna.  As you enter Soldotna, turn right on Kenai Spur Highway (2nd traffic light just past Fred Meyer store), drive 1.8 miles on Kenai Spur Highway to Big Eddy Road, turn Left on Big Eddy and drive .9 miles to Douglas Drive (across from big ship), turn Left on Rebel Run and then immediately left on Douglas, following Douglas to the left past our Kenai Riverfront Resort log sign, turn right in first driveway (if rope gate is closed, simply unclip and hang wooden sign on metal post to the right of driveway). Ring doorbell at door with "Office" sign hanging above for assistance, or come down to the riverfront during fishing season!
So kommen Sie zu uns: Sterling Highway von Anchorage bis Soldotna. In Soldotna an der zweiten Ampel nach dem "Fred Meyer" Geschäft rechts abbiegen auf den Kenai Spur Highway, ca. 1,8 Meilen (2,89 km) fahren bis  zur Big Eddy Road (die Strassenschild kommt schnell), dort links abbiegen und ca. 0,9 Meilen (1,45 km) fahren bis zum Rebel Run Road, dort links, und sofort wieder links am Douglas Drive. Ausschau halten nach dem Kenai Riverfront Resort-Schild. Das erste Lodge rechts am Douglas Drive ist Kenai Riverfront Resort.  Fahrtzeit von Anchorage ca. 3 Stunden.
Use this Link to download a PDF copy of our driving directions and Google Map, or use the interactive Google Map shown below.
View Larger Map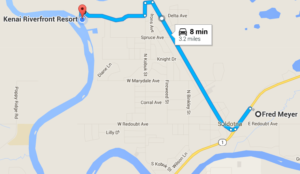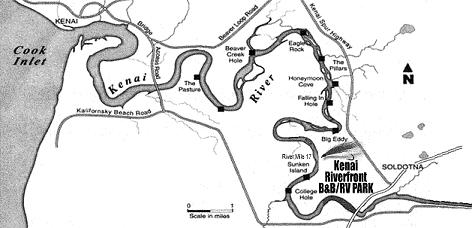 Just a short 20 minute flight from Anchorage, or a 2 1/2 hour scenic drive through the Kenai Mountains, will bring you to

Kenai Riverfront Resort.

If you are driving, print out our SCENIC DRIVE GUIDE for information on the points of interest along the way.  If you are flying, we can help you arrange local transportation, with airport pickup in Kenai or book a car with one of several major rental car companies at the Kenai Municipal Airport. Below is a general map showing the Kenai Peninsula and road system to Soldotna and the Kenai River, roughly 140 miles south of Anchorage.