August 5, 2007–"First Halibut"
"…fishing the placid waters of Kachemak Bay in early August couldn't be any better than it was today! Our boys, just six years old, made us proud and thoroughly enjoyed their first "ocean venture" aboard our 20′ family boat, the "FinnCooker". Fishing with their first very own halibut poles that they won at the Kenai River Festival just last month, they both landed their limit of two halibut to launch their saltwater fishing careers. Cooper went first this time, catching a nice young, tasty halibut, which we even cooked a bit of onboard the FinnCooker for lunch. Taylor wasn't far behind with his fine fish, getting a helping hand from his good buddy Denny to reel it up from the deep. The waters were calm, the fishing was just right for these little guys, and they are hooked for life! All in all, we spent the better part of the day on the water, cruising through coves, even enjoying a pit stop for beach combing and laying about in the sun. Congratulations young fishermen!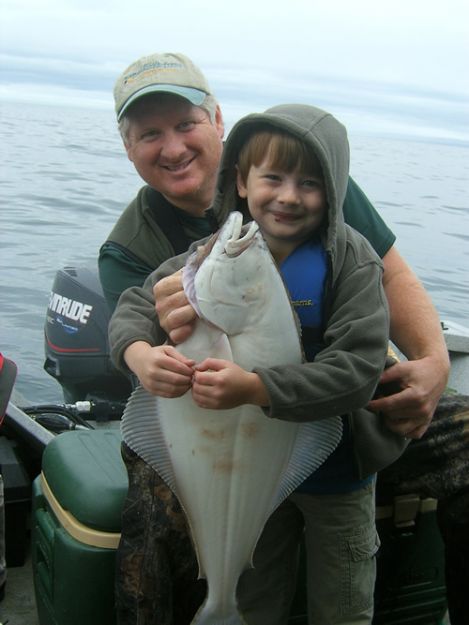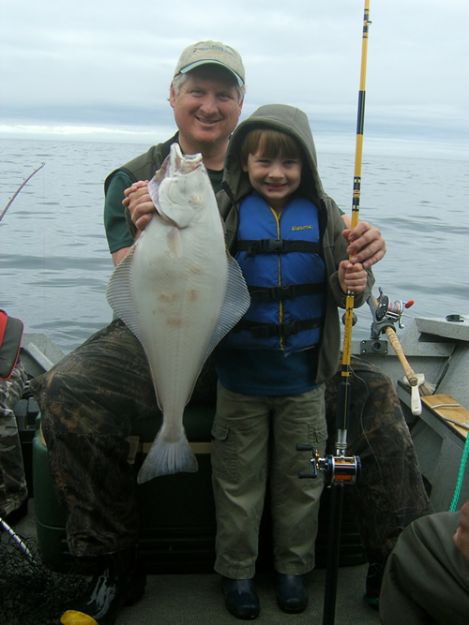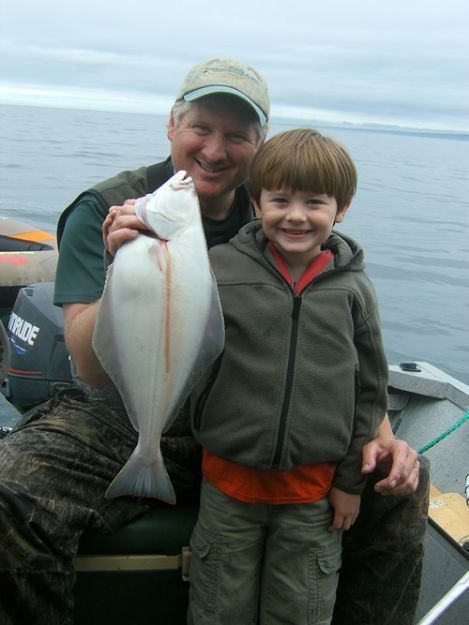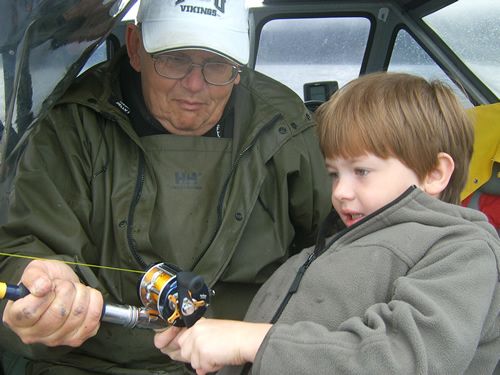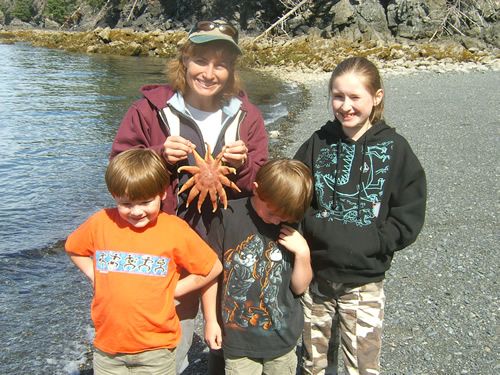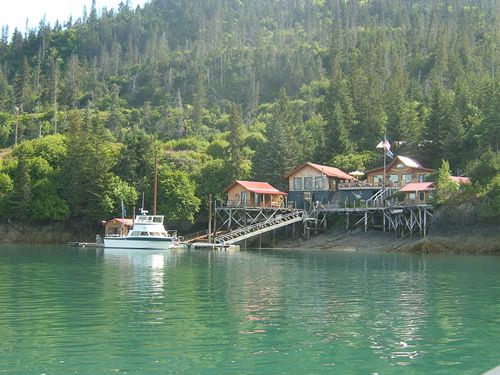 July 31, 2007–"At the Bell!"
"…Allison saved the day with one more King to feast on this winter, by bringing in this last-minute fish caught just one hour before the close of the season on one of the most productive stretches of river we've been fishing all summer. This young buck took the eggs lightly, fooling us for a minute, but then it was fish on and Alli was all over it! Capping off a great day of family time on the Kenai, beginning with breakfast on the FinnCooker, a sunny siesta at the Sonar on a 21′ high rising tide, buck burgers in a silver slough for dinner, and one last cast while the boys dozed off into neverland around 10:30 pm…goodbye Kings, hello Silvers, and another great fall around the corner!"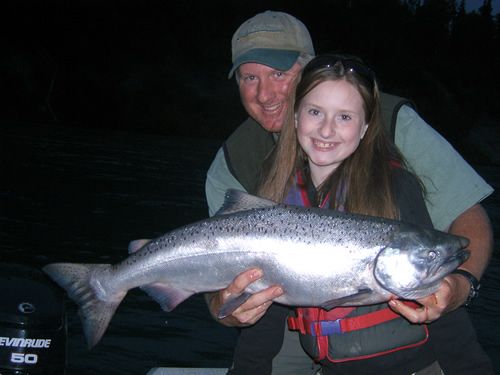 July 28, 2007–"Cooper's King"
"…nothing makes a six year old sing like a King on the line! Cooper let this fish have it, calling him all sorts of crazy things as he yodeled away and reeled in this nice keeper, after fighting him from the "Breakfast Bar" down the Eagle Rock drift before finally netting him. Way to go Coop, you handled this fish like a pro, even though he was almost as big as you!! Looks like you'll be teaching us all a thing or two in a few years…"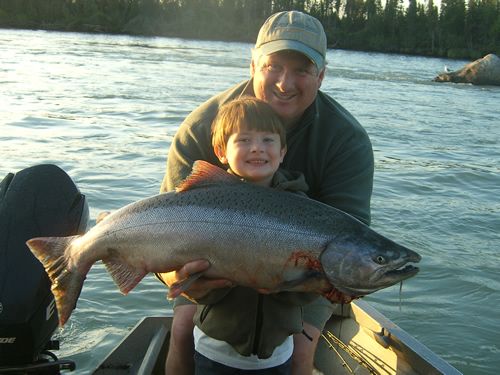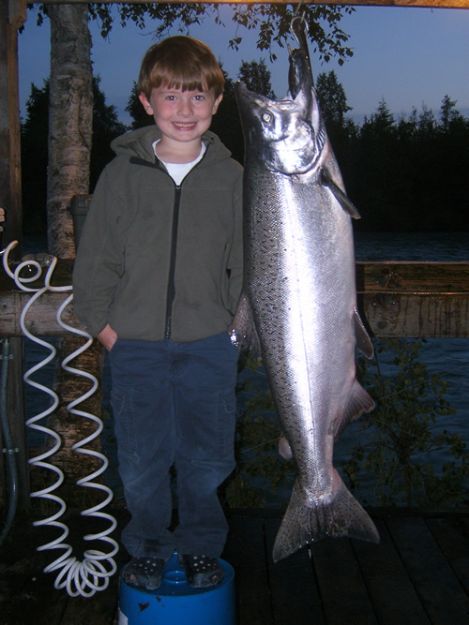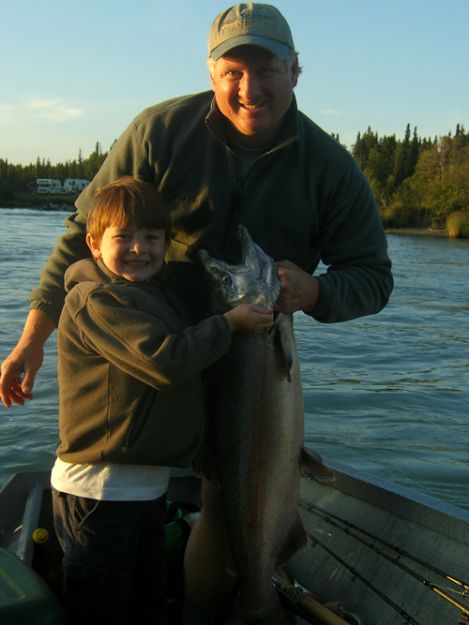 July 28, 2007–"Mud Island Miracle"
'…what a ride this King took Denny and the rest of us on today, into uncharted waters above Mud Island on an extreme high tide! This was a beauty of a King, much appreciated by the Professor and his wife. The whole crew (Gilligan, Skipper, Ginger, you get the picture) was pulling for him to land this big King, and after a well-fought fight the fish was in the net. Time to celebrate and log the memories for winter."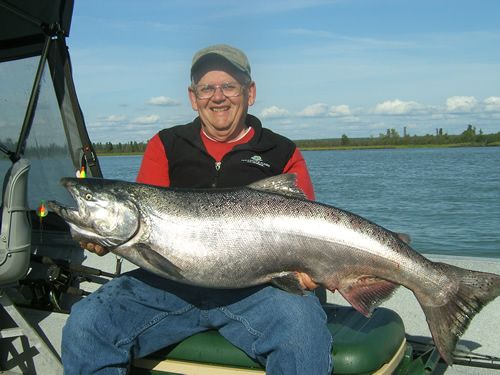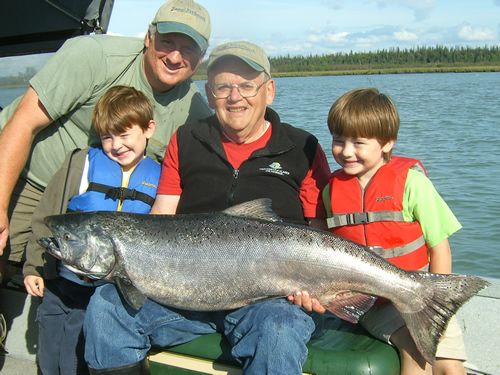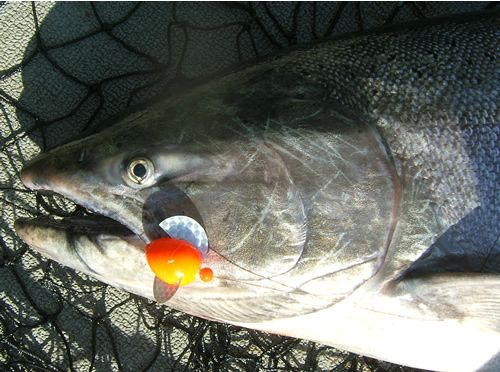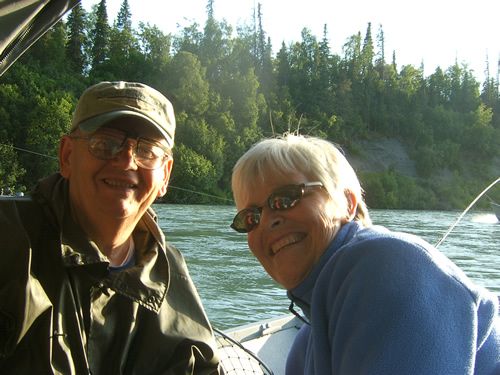 July 22, 2007–"A Day Fit for Kings!"
"…this was truly THE DAY for Kings this summer, even though the rain came down, and the morning was slow, the afternoon and evening heated up and for the few boats on the river that day (it was a no-guide Sunday), the fishing was phenomenal. We hit the river at noon, not exactly the early morning start that we generally shoot for, but hey, everyone needs some sleep eventually! The first fish to hit was a Jack, a small 10 pound king, followed by an unusual red salmon that took a plug, and then an average sized rainbow. Needless to say, the fish were getting smaller and smaller, which had us concerned, at least until Cindy hit this whopper of a 65 pound female King! She fought it from the top of mud island downriver, as it zoomed and almost hit two different boats, with our friend Dave hollering to "clear the way, we've got a big one on!" The monster fish showed herself a couple times, causing our boat and others to go audible in a big way, and then to everyone's relief, she was slid into the net and the celebration began (…it hasn't really ended yet as our whole family enjoys steak after steak of delicious King Salmon). With that picking up the pace, we hooked almost more kings than we could remember to count that day, eventually landing 12, releasing 7, and retaining these 5 nice ones for Cindy, RV, Dave, Jim and Randy. What a day, and in the words of our understated friend Dave, "…and that's how it was.".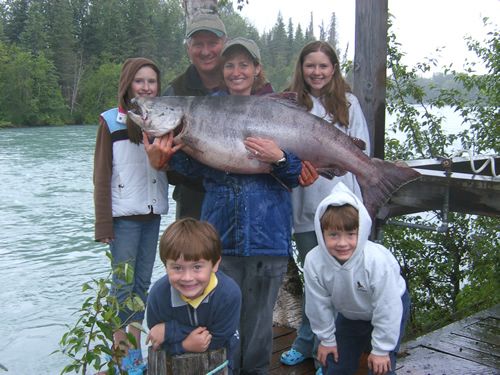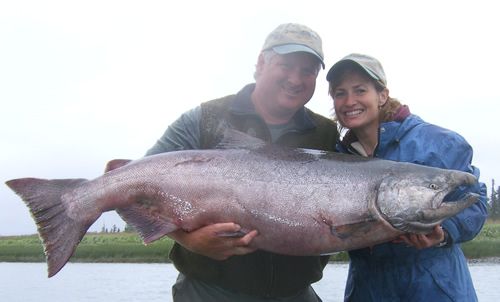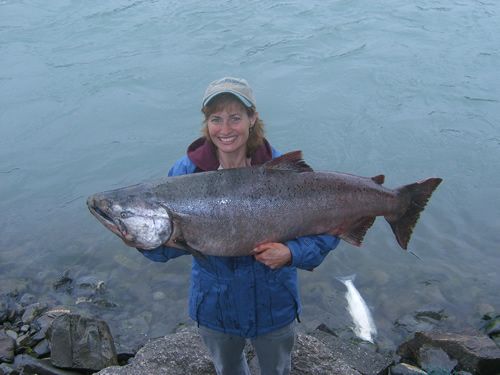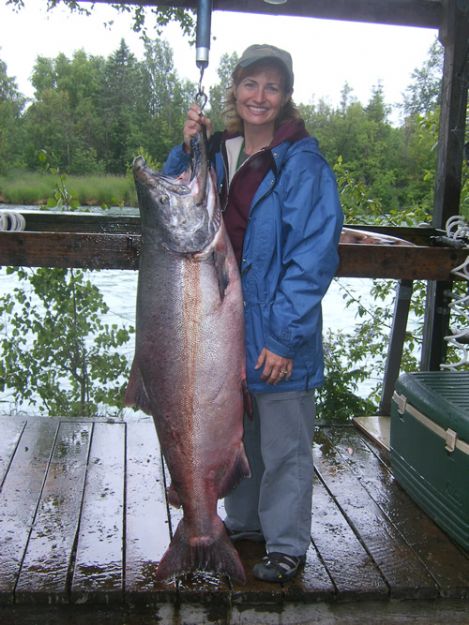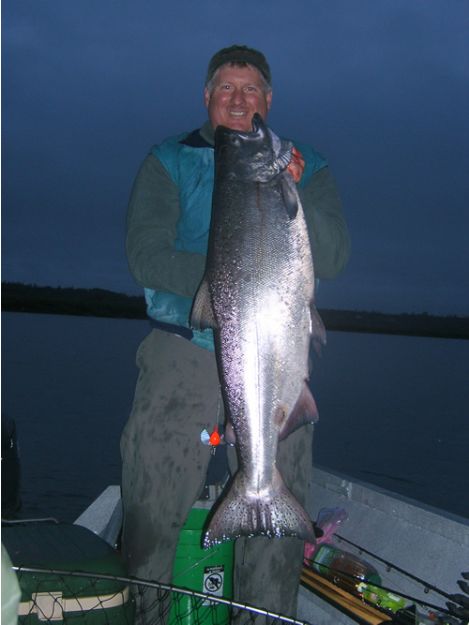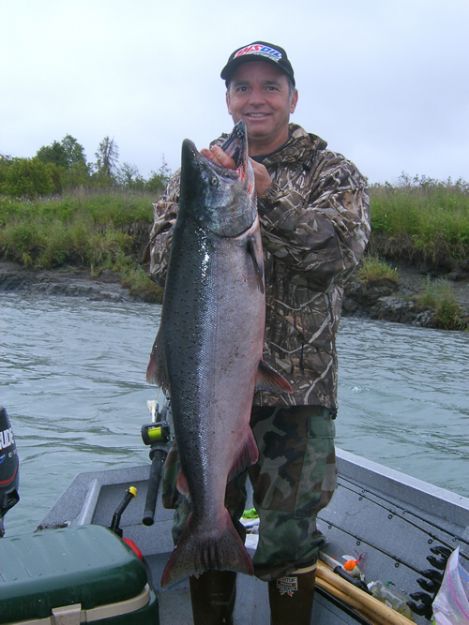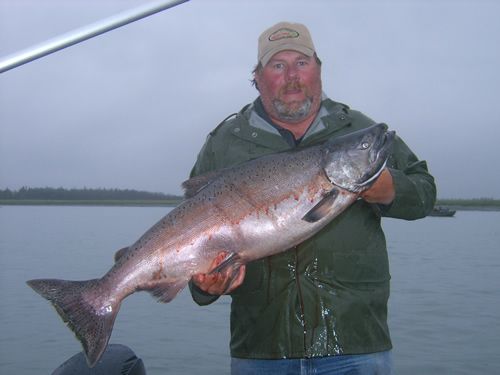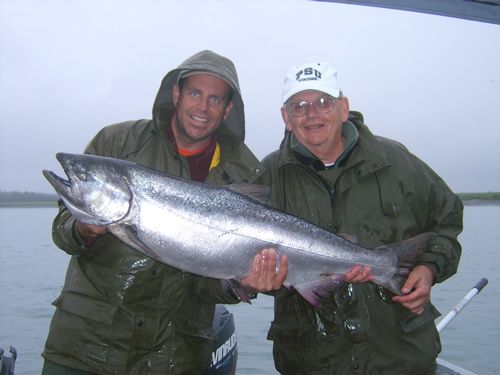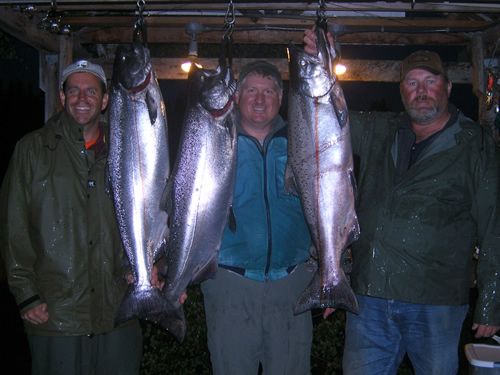 July 19, 2007–"Reds Runnin' Strong"
"…while the first 2nd run Red was caught a couple weeks ago, the first big surge of the run arrived last night and we finally got on the shore and caught our "dinner fish" this evening. This nice buck took a red fly on my line and gave a good fight, splashin' the shore, and eventually sliding into Cindy's expertly placed net. Blackened & grilled, it's in our bellies now!"
July 15, 2007–"Lil' King"
"…King fishing has been tough on most this year during the start of the famed second run of big fish on the Kenai River, but this lil' King sure made young Taylor James a happy camper. He fought it with all he had, shoutin' and reelin', grinnin' and line peelin'! Brother Cooper James helped by holding on to Taylor to make sure he didn't end up in the river too. With Mom and Dad both aboard to cheer him on, Taylor himself felt like the real King this evening. Fishing should be red hot for the next couple weeks!"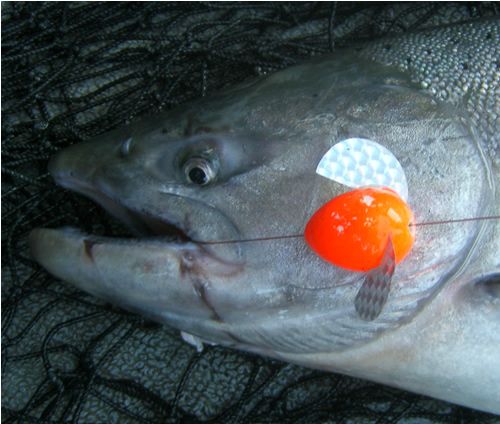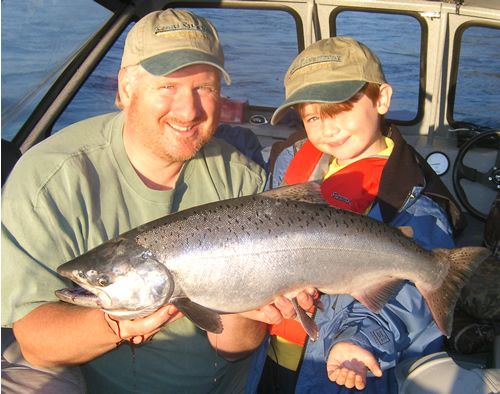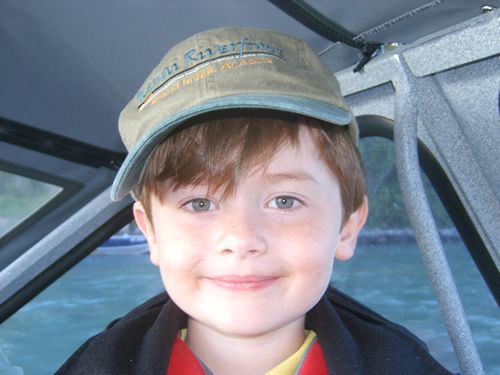 July 15, 2007–"Trollin' the Bridge"
"…fishin' low on a Sunday morning, with great hopes and anticipation, our good friend RV boxed this young King, after releasing several small ones that have been fleeing seals as they headed upriver. You gotta start someplace, and take what the river gives some days, fresh fish is afterall fresh fish. Profound? No, I'm sleepy now…gotta get some rest so we're ready for the big ones next go round, eh friends?!"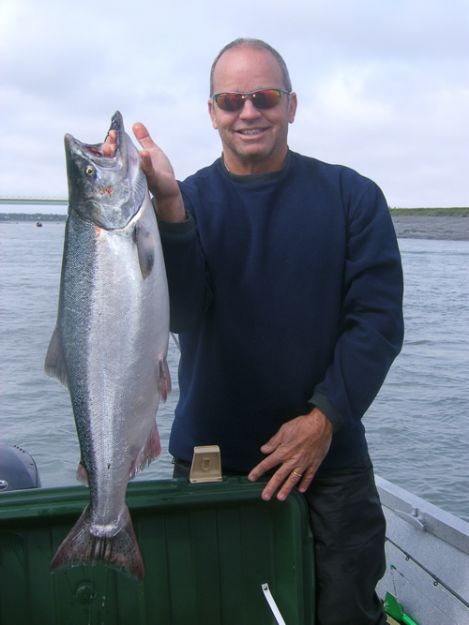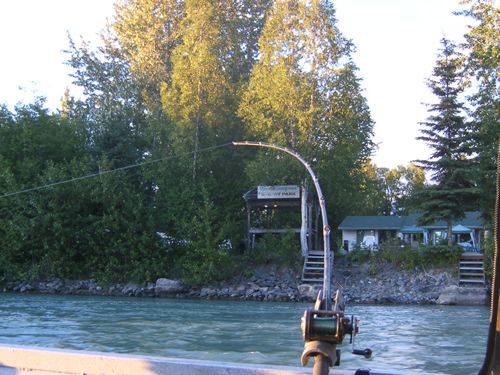 July 14, 2007–"Nice Nettin' for Nick by Dillon"
"…the curse is off is all I heard, not knowing what preceded this event exactly, though rumor has it that several fish have escaped netting attempts by young Dillon of Delano, shown here in the photo doing a nice job for big brother Nick, while father Swingin' Steve takes aim with the bonker! Way to Delano!"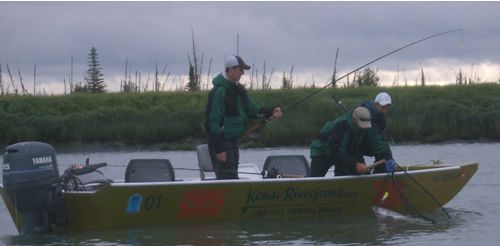 July 11, 2007–"Driver's Ed"
"…some would wonder why this one in a million red salmon would end up in the Kenai Riverfront chronicles for all posterity, but those of us that were on the boat that splendid evening will nere' forget this fish. The first hook up by new driver Cindy, the culmination of her Kenai River driver's ed session, and hooked by the clip of the diver in the mouth, fought and subdued by good friend KP of Idaho, and photographed by his dear wife SP. (Names may have been changed to protect the innocent, this story is fictional and not intended to represent actual people and actual events…or was it!). All in all, a great night on the water, sunset, fishing, food, and friends."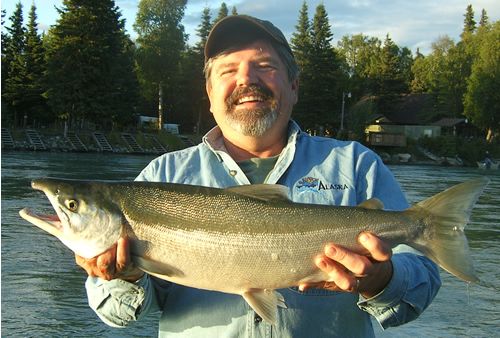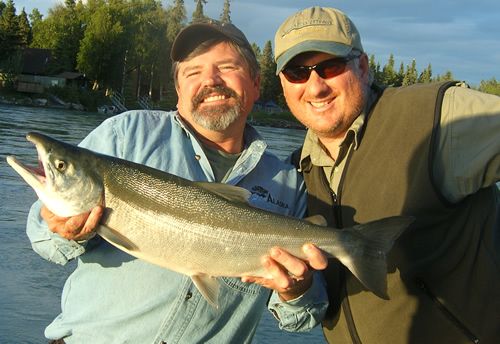 July 9, 2007–"Bet on Benny!"
"…fresh off the plane, and barely rested, Benny & Matt, friends from MN we had been buggin' to visit us again since their last visit three years ago (see 2004 Fishing Report), joined by the MIA Harmala's stand-in Aaron, headed out to sea with me from the Homer harbor aboard the FinnCooker for a day at sea in search of Halibut. While making a fresh shore-lunch breakfast on the stove, I heard Benny's line zing and saw him scrambling to wrestle with his halibut fishing pole. Everyone was scrambling and screaching as they saw the line spin off the reel–this had to be the big one–and it was indeed, a very respectable 100 pound halibut caught in just 60 feet of water. We spent the day searching for more, never finding a real hotspot but enjoying the extremely calm seas, a quick tour of Seldovia, and punctuating the day with another nice catch of a real fighter of a halibut that had Matt breathing hard for a few minutes, as it surfaced and disappeared (gaffphobia I guess), until gunner Aaron dispatched the 50 pounder with the ole' .410, his second successful shooting bout for the day! We went home to eat, pack & sleep halibut thoughts after a good long 14 hour adventure."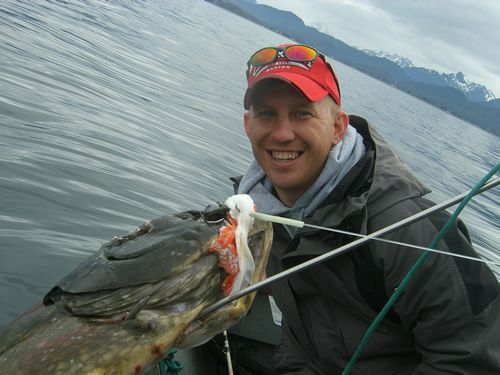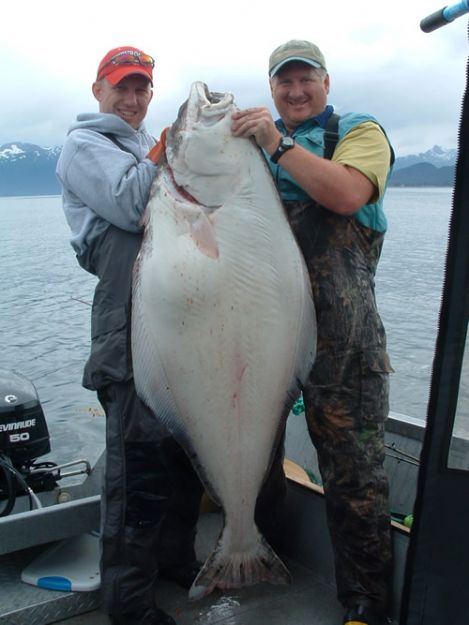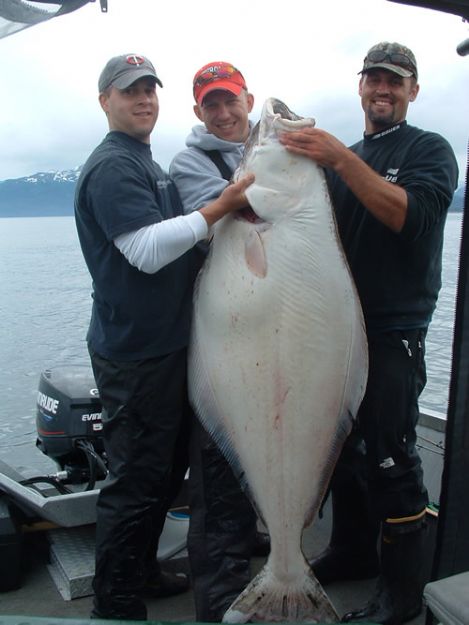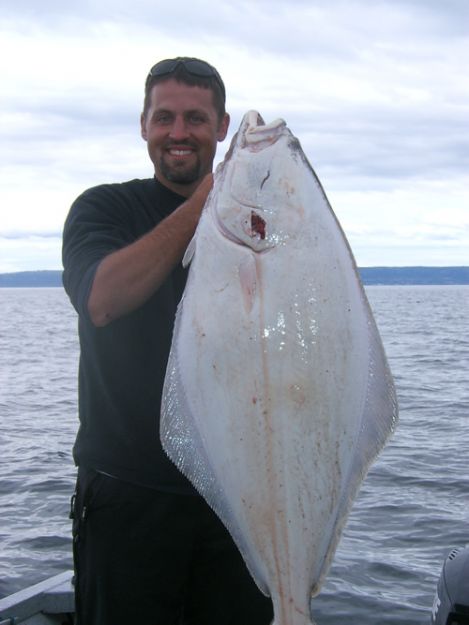 July 7, 2007–"Captain's Catch"
"…on his maiden voyage of a rental boat, newly promoted Captain of the Kenai, Dave M. set the hook on this very nice King, back bouncing bait at Mud Island, just moments after he passed by downriver. Nothing beats fresh Salmon, eh Dave? Well, okay fresh Moose is pretty good too–and I caught Dave & Jim eyeing this cow & calf as they swam by just shortly after they had Dave's King wrestled into the boat. Oh, scroll down to see Jim S.'s King caught just a few days earlier too…"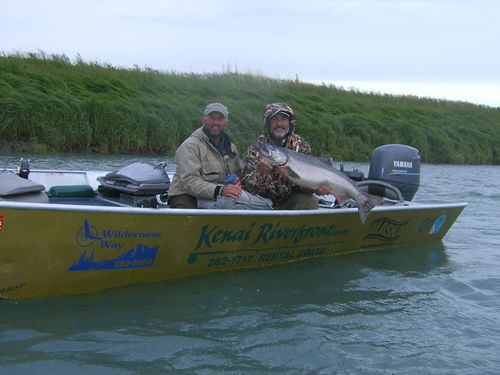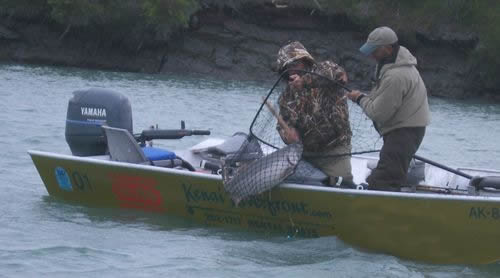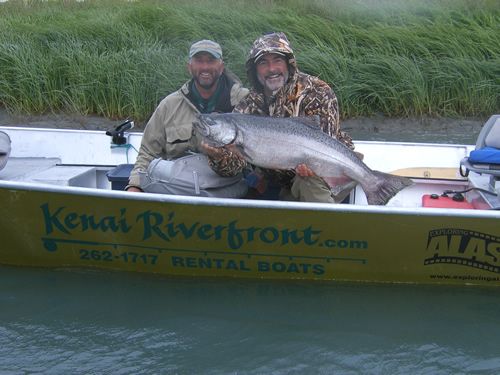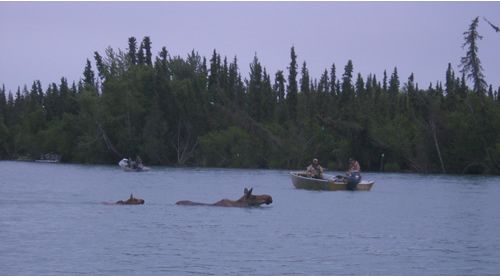 July 3, 2007–"Under the Boat!"
"…with plenty of Alaska summer light yet as 9:30 pm approached, we went for a short trip to fish the hole just upriver from the house this evening with friends Kerry & Cherie, even though the clouds had set in and ruined a perfectly good sunset opportunity. Just as we were enjoying a some good conversation about something I can't remember now at all, a dandy of a King hit Cherie's line and took off singin'! This was no worn out old bottom of the bucket King Salmon, this was a fresh, dime bright King loaded with energy (not to mention some fine caviar!), and the fight that followed was one for our Kenai River memoirs for sure! At least five times, this King ran under the boat, stubborningly refusing to come out and play like a nice fish. Cherie hung tough on it, following orders from the Captain, Co-Captain, and Co-Co Captain all the way, no matter how bizarre the order! ("Put your pole in the water! Lift it! No slack, reel up reel down!" And all the other standard things we dish out in the heat of the moment.) And I'm here to tell you it was a moment! Especially when we had 'er in the net and saw what a beaut she was! Way to go Cherie!"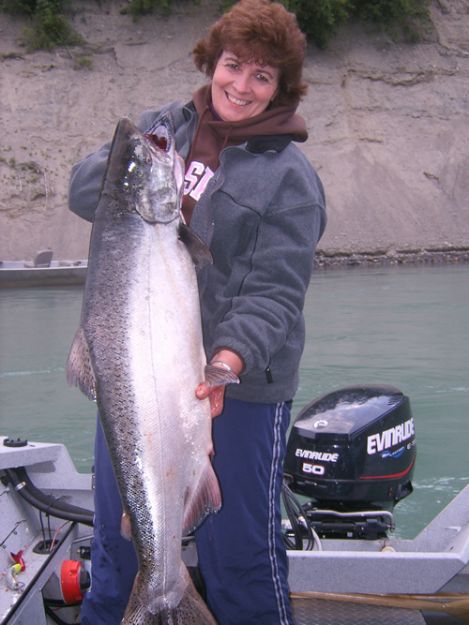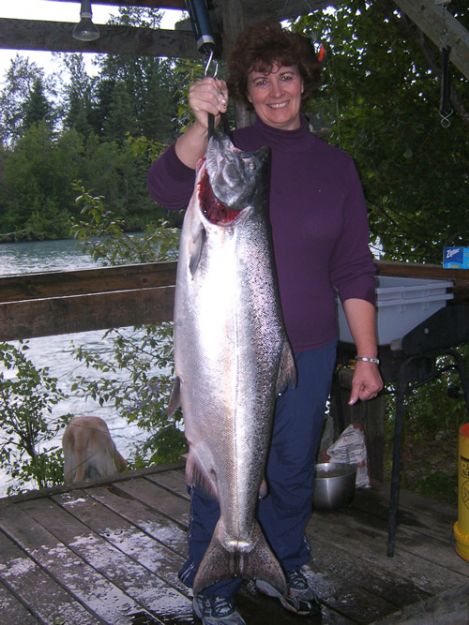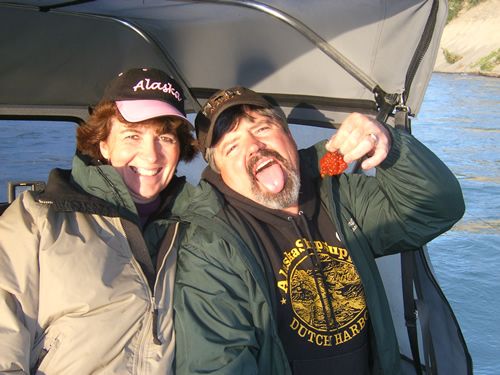 "Bait Boy Gone Wild!"
July 2, 2007–"1st Red of the 2nd Run!"
"…and the award goes to none other than our own Kerry Phillips! You woulda swore this fish was gonna drag him into the river for all the hootin' & hollerin' go on at our shore just less than an hour ago! Twin Taylor came runnin' up to me, as I was plunkin' away on the computer, saying "Daddy, Daddy, our friend has a fish!" Off we all ran, the whole family, and we found ole' KP doin' the fish whisperer thing on a dandy of a red salmon, the first of the 2nd runners. I told him we needed one for coconut salmon dinner, and shore nuff, he made it happen, in less than 5 minutes to boot! (Now where in the heck is this southern accent coming from…well that KP can infect you in more ways than one!) So, the dinner menu is all set now: Coconut Salmon, Cajun King Salmon on the Cedar Plank, Shrimp & Scallop Kabobs & anything else we dream up at the last minute! Eat your heart out Randall Green, Pitts, Wally, Dan & Norm!" (Shown Here: Kerry on the phone with Green, look who had to hold the fish! 🙂 And no, it wasn't really 25 pounds, even though we are a couple big fellas!"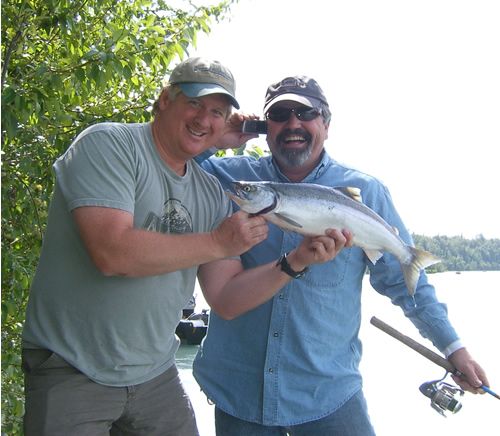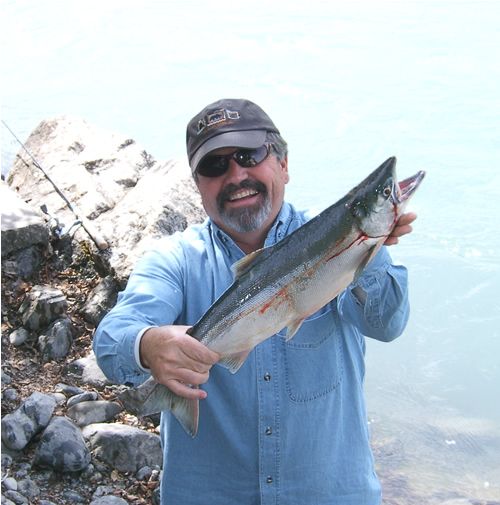 July 1, 2007–"1st King of the 2nd Run!"

"…patience paid off during an unusual slow streak of fishing on Sunday, July 1st, on the opener of the 2nd run of Kenai Kings–the fish that made this river so sought after. Jim S., our good friend from the LAFD hooked this beauty of a hen, packed full of eggs, on ole' red hot, one of our favorites. As we sat in the morning sun and watched the river go by, nearly taking a snooze after a breakfast steak & eggs hoagie on the FinnCooker, (recently upgraded by Jim & buddy Dave), I heard "Big Bertha" calling, and we scooted up river to give her a one-pass attempt. She took the bait, showing three quick pulses on the line, then screamed downriver when the hook met her gums, FISH ON was heard for miles around! Jim was still reliving the moment as his plane took off for Lake Clark National Preserve, the beginning of his next Alaska adventure!"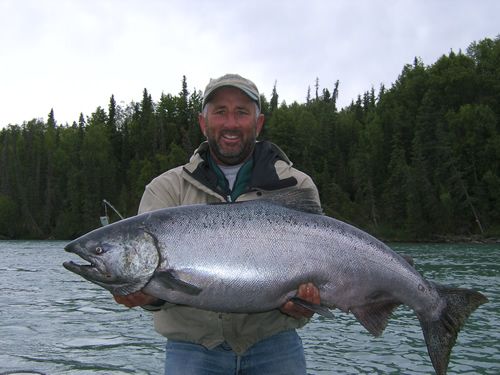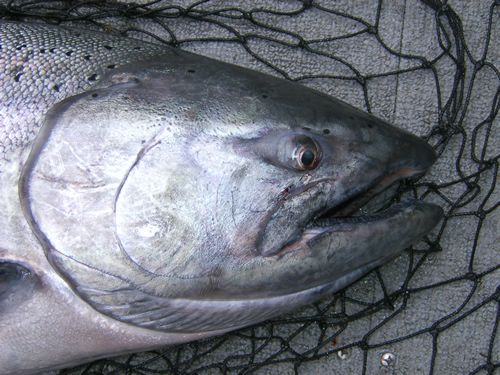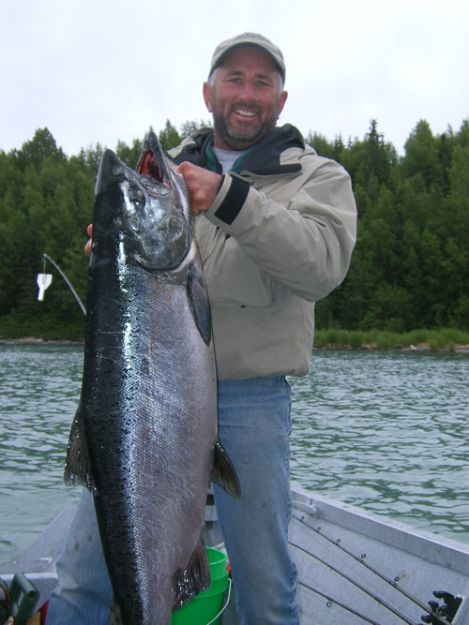 June 26, 2007–"King of the shore!"
"…some say it can't be done, it's not worth even trying, but that didn't stop young Scott of SoCal from trying to catch a world famous Kenai River King Salmon from our shore! And, as it turned out, even to his surprise, it didn't take long: First Day to Try, First Cast, First Minute! Seeing the hubbub and excitement near the boat launch, accompanied by a few loud "Fish On's", several volunteer firefighters were quick to come to Scotty's aid…jumping in the boat, chasing the fish that was heading back to sea, and eventually subduing the Oncorhynchus tshawytscha into submission! What a nice way to make up for last year's King of 51 inches that Scotty had to release just 45 minutes before the expiring slot limit. Not a bad start to summer on the Kenai, shared fully by his Dad & best bud Kevin too."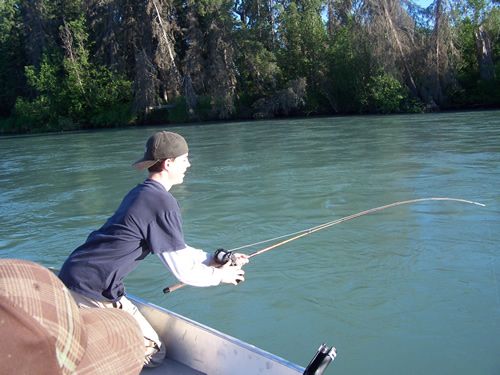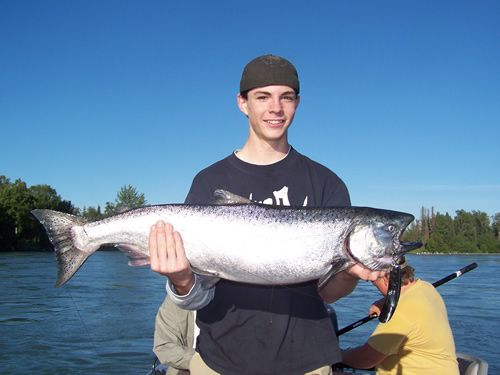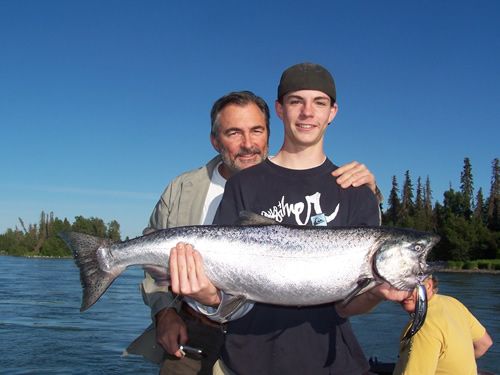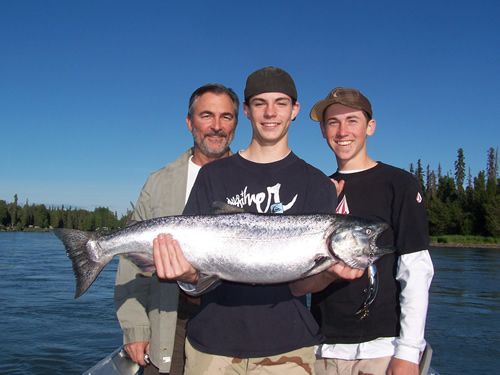 June 25, 2007–"SkateGirl & The Sleepers"
"…setting sail from Homer harbor aboard a trusty tri-hull catamaran, our crew of nine halibut hunters from camp Kenai Riverfront, joined at the last minute by Cindy for her first halibut trip in years, watched the Homer Spit and it's grand backdrop of glaciers fade into a sliver on the horizon. Dropping anchor in about 170 feet of water in the middle of Cook Inlet, the first fish hit within minutes, and they just got more frequent & plentiful as the day went. Super calm seas & a great tide always help make a great day on the water in Alaska. Cindy had the momentary pleasure of claiming the biggest fish…only to find out it was a 75 pound skate, leaving here with nothing but a sore arm to show for her effort, and the new nickname of "SkateGirl". Still, by the end of the day, everyone got their fish, a collection of very nice eating halibut, a fine early summer's catch of 18 flat fish, with many more released to grow up a little. As for the fishermen…well, as you'll see evidenced by Scotty & Kevin, it was time for some much deserved rest!"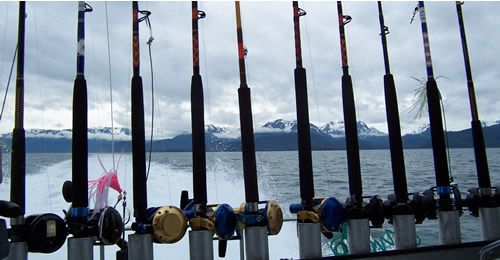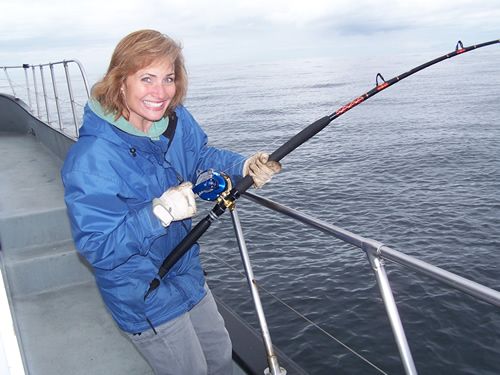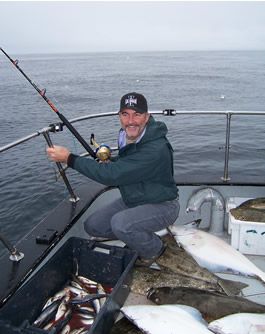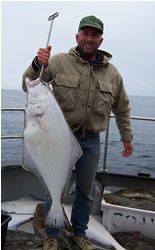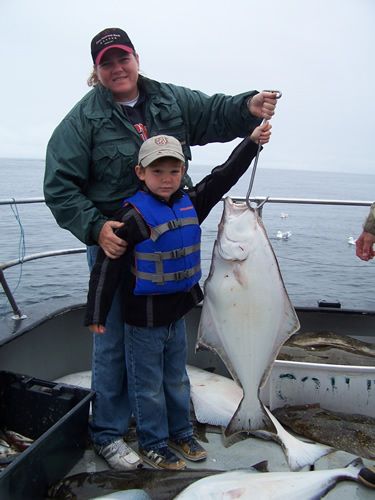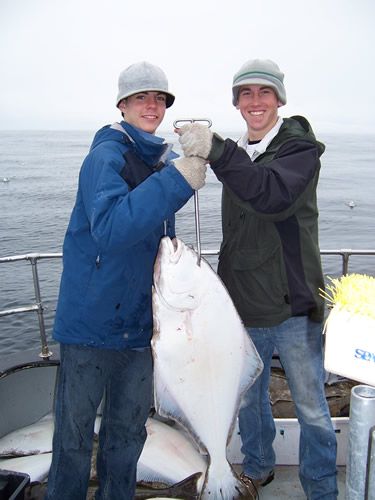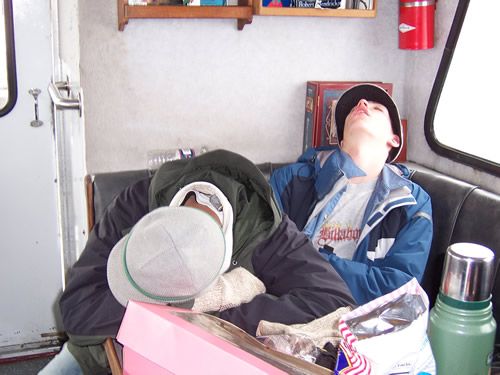 June 23, 2007–"Giri Giri Sashimi!"
"…Mr. & Mrs. Kato arrived this afternoon, and though they hadn't planned to go fishing since they were staying just one night before they took off on an Alaskan adventure by motorhome, they decided to book a quick charter trip on the world famous Kenai River flowing by their B&B window and experience what our river is so famous for. They hopped aboard with Master Guide Dave Richards and returned just a few short hours later with this nice King Salmon loaded with "Ikura" (Japanese delicacy of salted salmon eggs)! Here was the dinner menu that emerged: 1st Course, Salmon Sashimi with Wasabi, Soy & Ginger, 2nd Course BBQ Salmon Ribs, 3rd Course Blackened Salmon, 4th Course Grilled Salmon Shioyaki with Sesame Sticky Rice!" Yum?" Gochi so sama deshita!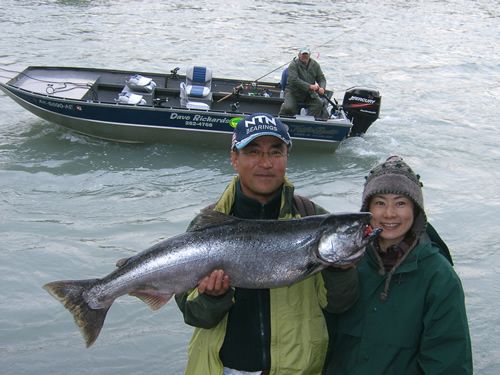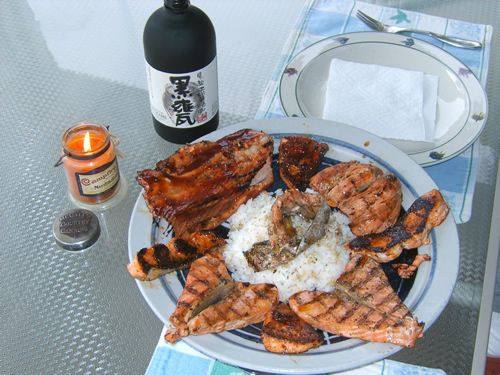 June 19, 2007–"Are you as tough as a 3rd grader?"
"…this young buck of a King proved he wasn't! How many of us caught a King Salmon on the Kenai River when we were eight years old? Other than my own kids and their friends I don't know any, and this King was certainly bigger than any ole' Walleye or Smallmouth or Bluegill that I caught when I was her age. Way to go Abigail! I could tell she had her pulse on the river from the moment she stepped on the boat this morning at 0500, standing in for her poor Mum who was stricken with the flu at the last minute, and unable to join for this boat breakfast of grilled King Salmon and poached eggs on bagels with cream cheese and capers aboard the FinnCooker! From the moment this King hammered that gold & black plug, young Abby was all over the pole, ready to reel it in, only needing the help of her Dad to hold her in the boat, while Grandpa & Grandma from Washington state cheered her on. Good mornings like this are what the Kenai River is all about!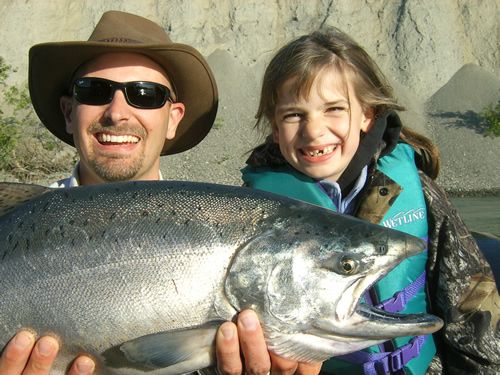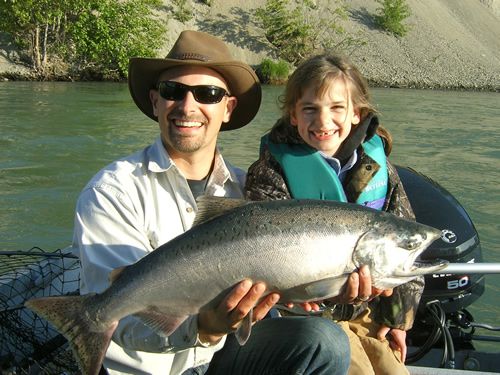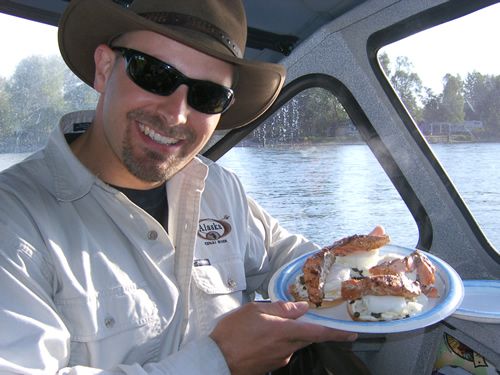 June 18, 2007–"Drift Boat Mondays"
"…the drift boat season is in full swing now, with customers Barry & Carrie Oser shoving off from the Kenai Riverfront shore this morning at 0530 in their quest for a Kenai King in a rental drift boat. Team Oser struck paydirt in the form of a nice chrome hen just downstream near the Big Eddy bend, landing this beauty in a team effort. They were all smiles as they enjoyed a memorable Alaska moment here on the Kenai, under partly cloudy skies and temps in the high 50's, pushing into the low 60's by noon. A big shout out to the kids & family back home in Deer Lodge, MT, famous for Louie's Montana Pasties!"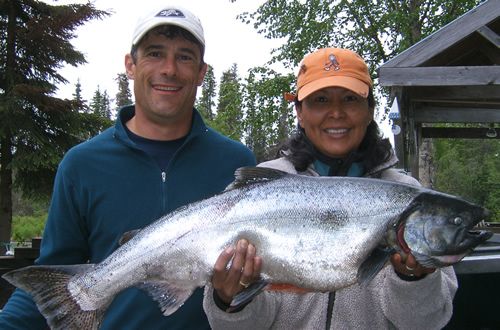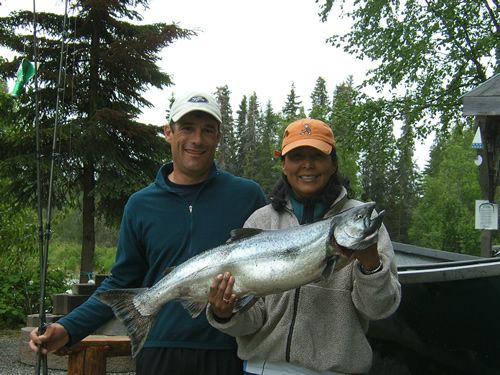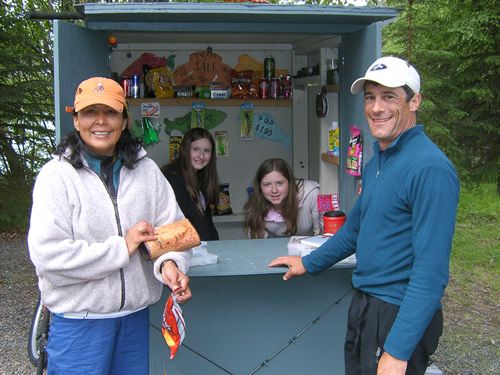 June 17, 2007–"Father's Day Fish!"
"…hardly a year has passed by that we haven't had at least one "Father's Day Fish" in camp, it's a tradition we look forward to, and this year was a very special one. Our long-time friends the Ando family came for a visit and their son Nari caught his first fish, a beautiful Dolly Varden just under 18″, with the help of papa Masa! The twins were there to cheer him on, saying "Go Nariko, Go Nariko!", and soon the fish was on the beach of Stranded Island. I had been enjoying a little nap on the sandy beach, and the boys were enjoying their little beach campfire, when the fish hit, and suddenly everyone's interest turned back to fishing! Way to go Team Ando, what a great Father's Day moment to remember!"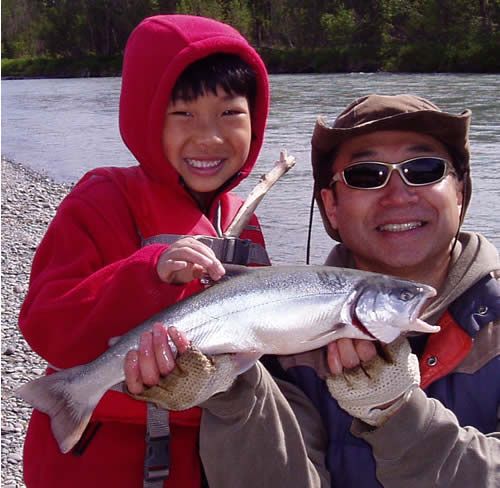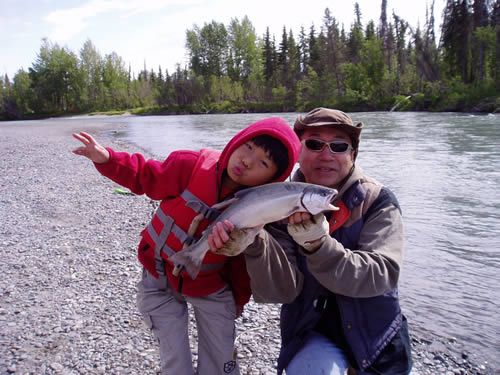 June 13, 2007–"Seeing Double?"
"…some guys just know how to have fun, and it doesn't get much more fun than this! We set sail on a mission this morning to get our friend Scott out of work mode and onto the water for some much needed R&R, and to help him achieve a goal he's been working up to for some time. Now, without getting too personal here on the fishing blog, I have to say his ambition is truly admirable and inspirational. Some time ago, when the river was still frozen and the salmon were away at sea, Scott made a pact, a promise, and a vow to his dear wife, family & friends to give up nicotine the very day he caught his first Kenai King Salmon of the season. Well, congratulations my good friend, you caught two so I hope you are doubly encouraged to go the distance, live long, and prosper! Scott fought the first one in forward fashion, like an old timer on the Kenai, but the second one went wild and cleared the hole, running downriver fast more than 100 yards, while Scott scrambled around the deck, side to side, managing to even step on his own breakfast steak sandwich that he had previous to this point been enjoying on the FinnCooker. Note**If you are reading this and wonder how he could keep two Kings today, read up on proxy fishing regulations, and you'll see that he was fishing for an elderly friend, doing good for both himself and for another! Hope your summer is unforgettable from this day forward Scott! P.S. Proof surfaced today on the water that King Salmon really DO like bananas afterall!"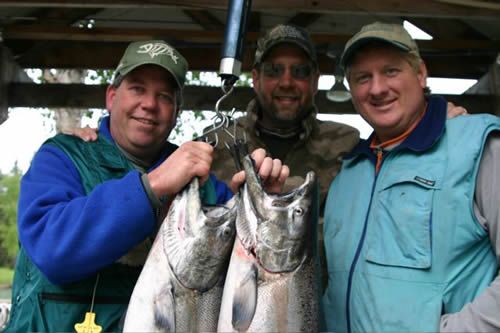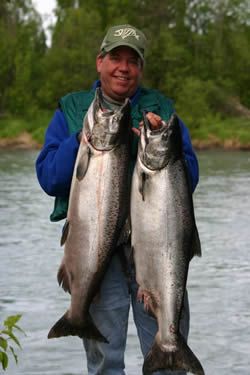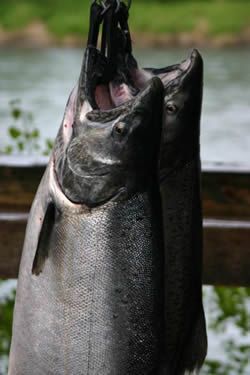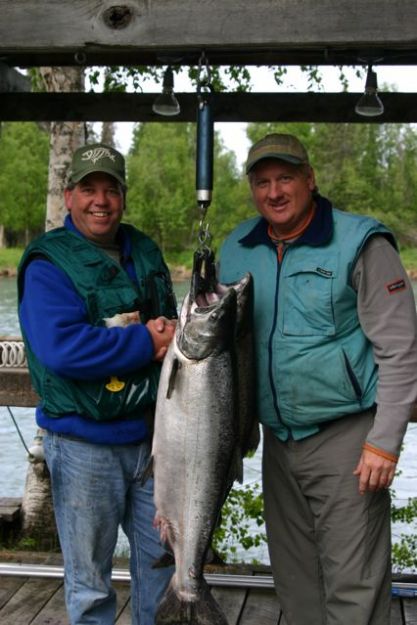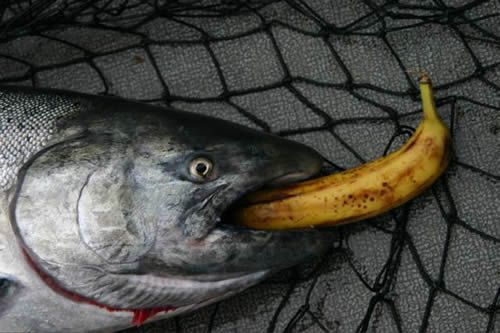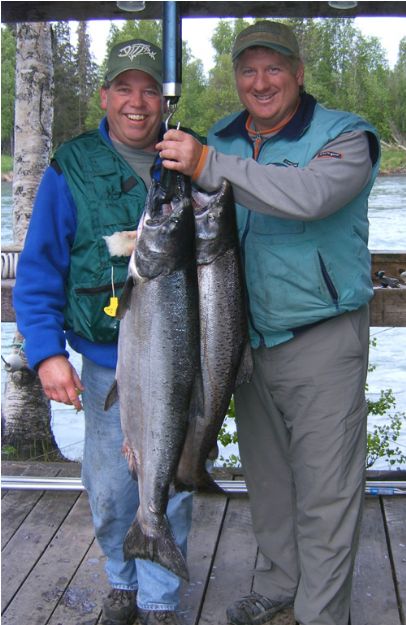 June 12, 2007–"FourForAll!"
"…BAIT has OPENED! Let the eggs fly 🙂 We couldn't resist a morning on the river with friends aboard the "FinnCooker" when we got the news late last night that the Kenai River King fishery was being liberalized with bait from the confluence of the Moose River downstream to the mouth. Thankfully, we've put up some good batches of eggs already, so it was time to put them to the test! Long story a little bit longer? Three out of Four Kings surveyed (and landed, photographed, and released) recommend freshly cured King eggs, while the fourth and first catch of the day clearly preferred the subtle odour of egg-laced velcro! If you don't know, don't ask! Buddy Bud landed this beaut and let her slip back into the ecosystem, while his pal Kathy did likewise with a slight smaller version of the same, followed by Cindy with a nice hen freed to spawn, and finally me and the "Sweet Spot" where I caught yet another Jackie boy!" Four fisherman="Four" fish, isn't that how it's done??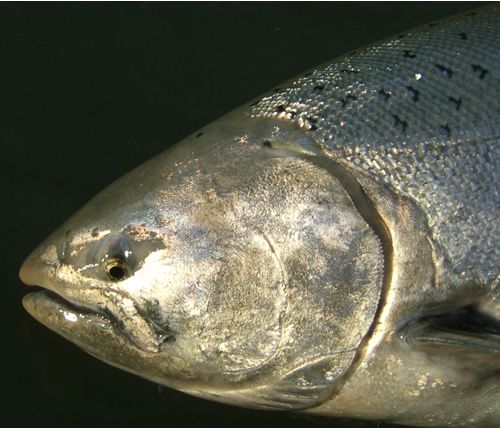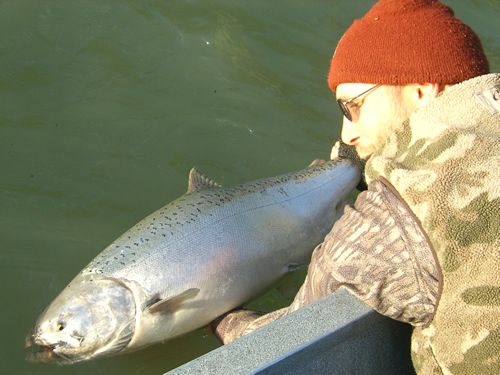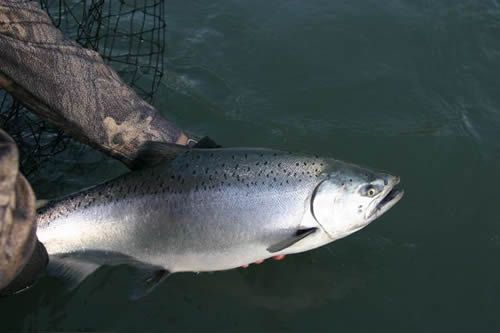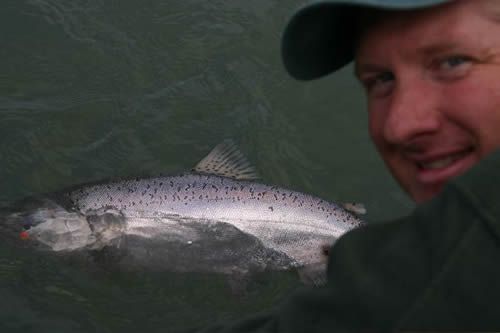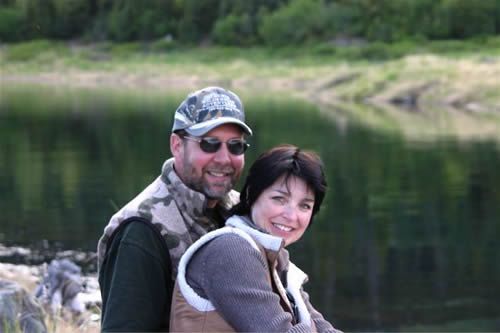 June 10, 2007–"Rapid Rob ><)))>"
"…some guys are just lucky, aren't they!? Among them are heros like Rob Schmitt from Michigan, who stepped off a plane at the Kenai Airport in the middle of the night after flying most of the day to get here, tried to sleep a few winks (standing up because he was so amped to be in Alaska again and surely didn't want to sleep in and miss the boat), and then set the hook on a Kenai King as soon as his plug hit the water–before his partner's line was even set, and before mine was even in the water! Now that's what I call fishin' in the #1 Fishing Hotspot in North America (Field & Stream, May 2004). That king was a little light, and the week was young, so back in the river it went. The next day….well night I should say, while the sun was setting on the majestic Kenai River, Rob did it again–only this one was destined for the grill! I'd better go find a cedar plank…"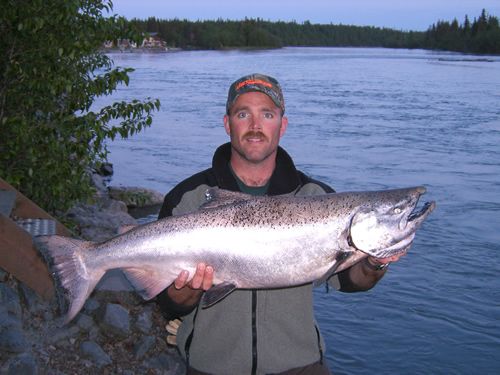 June 10, 2007–"Headin' Up River Fast!"
"…hold on now Cindy, this one looks like it's gonna take you to the spawning grounds! Sliding down the 1/4 mile, just enjoying the river, the weather, and comradorie, this beauty of a buck hit Cindy's plug BB and took off screaming–disturbing the otherwise peaceful setting. Maybe it was the big hookset, maybe it was simply frying pan phobia, but whatever the cause this King was not gonna give up easy. With 50% throttle we cruised upriver to catch him, until finally he turned and gave Cindy a look. Nice fish, big thick buck, but this one goes home free. More fish are yet to be found in the neighborhood, summer is young…"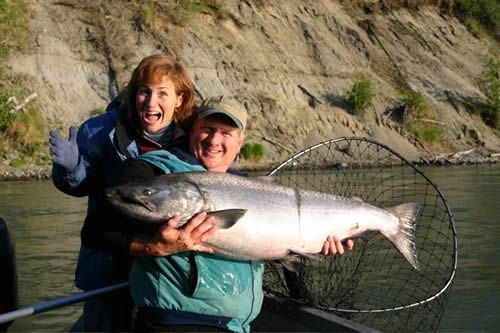 June 10, 2007–"What a Week!"
"…persistence, patience, and the most positive attitude you can imagine paid off big time for angler Trey Johnston, landing this gorgeous female King Salmon on the last day, in the last hours, of his two week Alaska trip. The smile says it all don't it??!! It's all good…."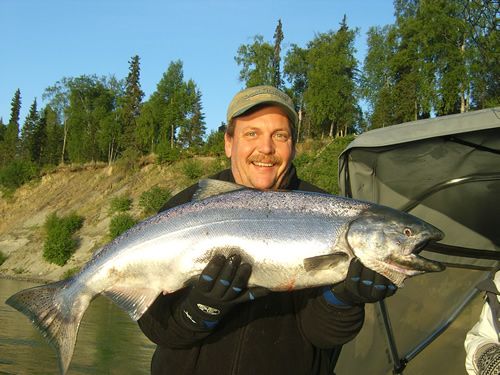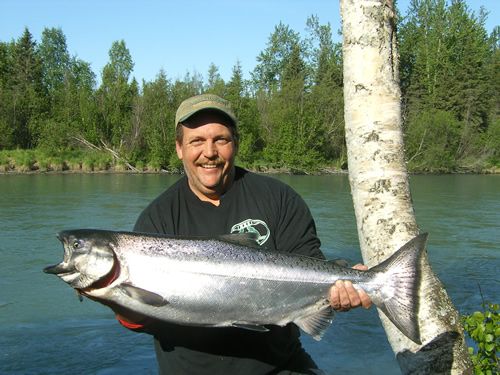 June 6, 2007–"The Long Haul!"
"…when it comes to weather in Alaska, some days are just better than others. This day was a bit on the rough side, as we cruised out of Seward for a day of Halibut fishing. Our hopeful destination was Montague Island, but in the end we'd settle for Montague on the horizon, what horizon we could see between the swells! Near the south end of Latouche Island we dropped our lines, several hours after battling the seas which were predicted at 4~5 feet, estimated at 6~7 feet, but in my opinion there had to be some over 10′. Still, we were determined, and while we couldn't take lot's of photos given the conditions, we did get our limits of halibut, and a long boat ride home! The dall porpoise were great and the Captains did a fine job given what they had to work with. All in all, a better day than staying in bed!"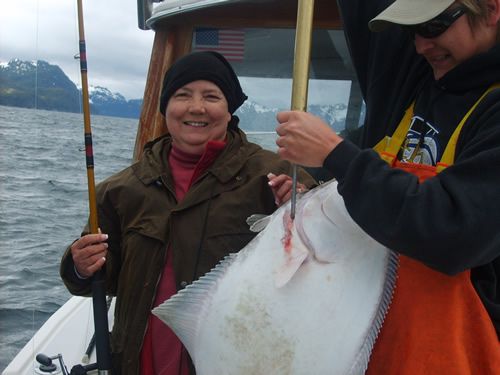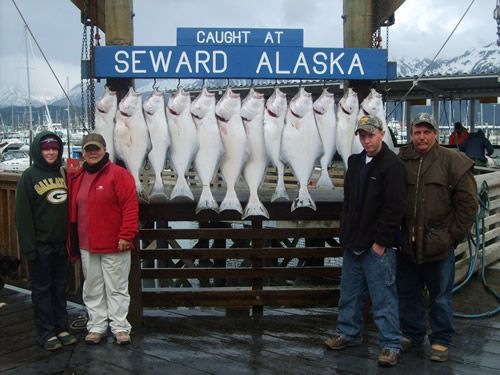 June 3, 2007–"Lukey Guy!"
"…what a nice way to spend a Sunday afternoon…on the Kenai, hardly another boat on the water, and time with good friends! You'd think that would be enough, but for young Luke Short, something more was in store (or in the river in this case!). With two boats loaded to legal capacity with three families eager to fish, we set out with me at the helm of mine, and Luke's father Seth at the helm of a Kenai River Rental Boat, a "three hour tour" of sorts. Now it's challenge enough to pilot a boat on the Kenai the first time in your life, and when you add a boat full of kids it can be even more so, but when you add a world class 43″ Kenai King Salmon to the end of one of the children's lines, you've got MORE than your hand's full! That's what Seth signed up for, and good thing too, because his willingness to put some time in learning the river paid off big-time today, creating a father-son moment to last a lifetime. So, without further ado, here's the play by play. A beautiful bright hen, measuring 43″ hits a creamsicle cheater on Luke's line, but he doesn't even seem to notice, so father Seth speaks up and says "Hey Luke, why don't you check your line…(very casually)" Moments later Luke realizes he has a fish, and no LITTLE fish to boot! Captain Seth then quickly sprang into action, along with the rest of the crew, to secure the other lines and try and position his boat. The fight was on, and Luke was in the game! We drifted by, snapping photos and shooting video, with Luke's Mom Julie, Jackie P., Cindy, the twins and I all cheering Luke on as the battle between the 43″ King and this 12 year old boy escalated! He danced around the deck, wrestled that monster, and eventually found an opportunity to get that King into the net that his Father was stealthily stabbing into the water! Nice teamwork guys & congratulations to young Luke on an awesome catch! Welcome to the Kenai Club!"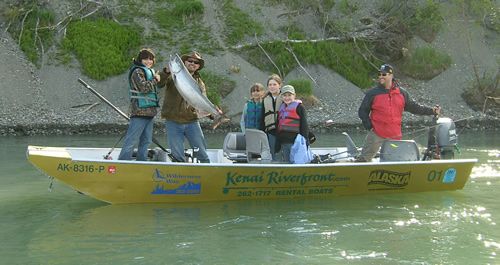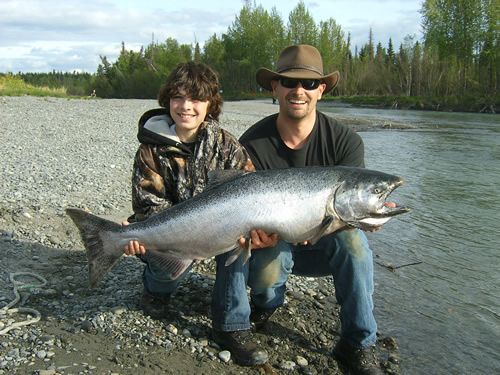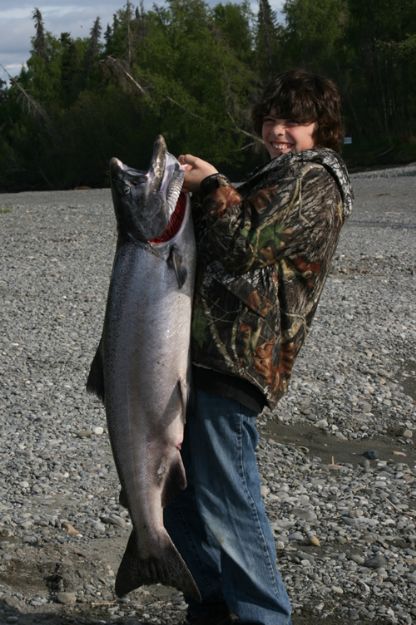 June 2, 2007–"Fishing Forecaster…"
"…who could have forecasted this?! We took our time getting on the water today, this being not just a fishing weekend but a wedding anniversary for our friends Dannie & Jackie visiting from the city. We finally got the boat in the water and dropped lines around mid afternoon just downriver, but still in sight of our shore at Kenai Riverfront. We were all caught by surprise when Jackie's fishing rod doubled over in the first 5 or 10 minutes! Chief fishingologist Jackie sprang right into action, while our crew scrambled to get the other lines up and the boat in a good position. This beautiful dime bright hen had hammered a hotshot plug and took off across the river, then started racing up river fast. Jackie held on, danced across the deck, avoided a close call when the fish went under the boat, and ultimately forced this 40 pound King into submission as her husband Dannie and the two of us cheered her on, took video, and watched her live up to the "Big Wild Life" she was recently promoting! What a great way to celebrate their anniversary, hooking Kings, and hooked on each other. Happy Anniversary guys!"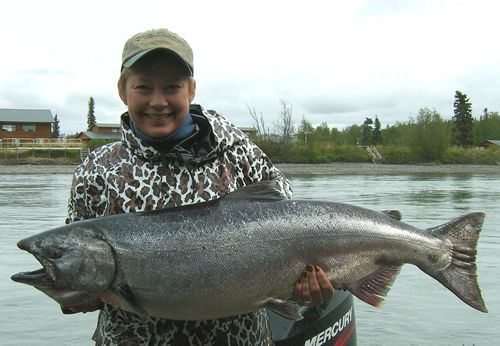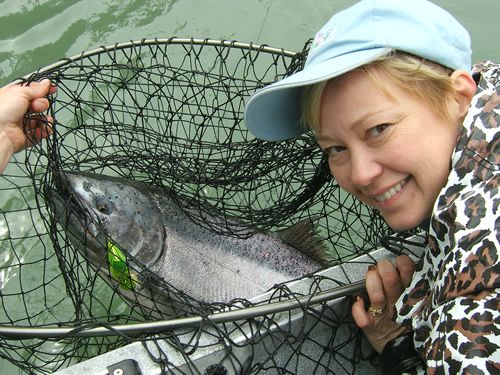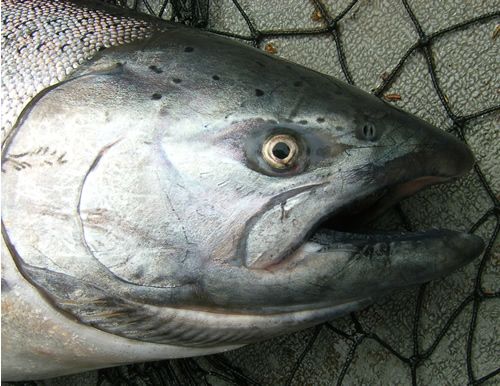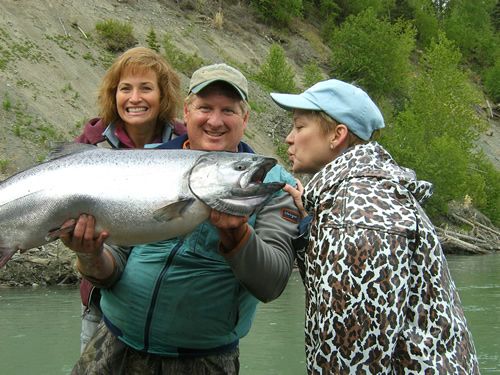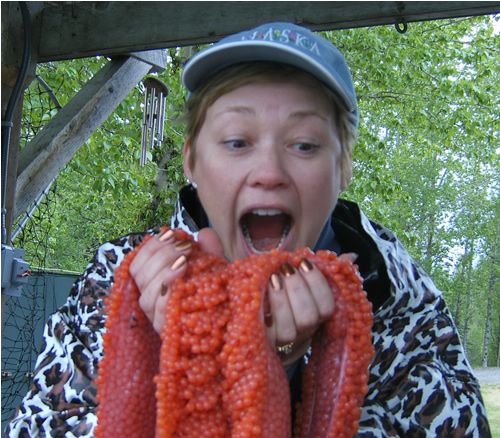 May 31, 2007–"First King of the Season"
"…well it's off to the races again! Another season of Kings has begun, officially now on our shore, with a bonafide catch to report! It was a lucky young Boy Scout named "JD" from Georgia who scored big, fishing off of one of our Kenai River Rental Boats no less! He hooked up right out in front of our boat launch as he backtrolled by, and landed it down on around the corner. Capt John did a fantastic job of making it happen, both on the water as well as months ago when he was planning this great trip for 18 scouts from the South! Way to go guys, hope to see you all here someday again with your wives & kids! P.S. Jillian says Hi to the gang!"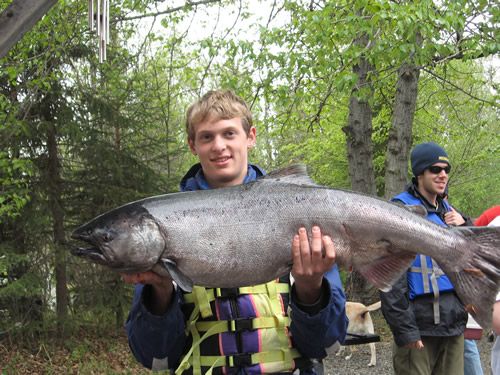 May 27, 2007–"Bear Fishing Report"
"…according to this big fella, who swam across the river this evening just downriver from Kenai Riverfront, King Salmon aren't exactly easy to catch yet, but like him we're all anxiously awaiting the surge of salmon so we can salivate together! We had been planning to drop our lines in the "Sweet Spot", one of our favorite fishing holes, but he beat us there! He seemed to be telling us that we'd better move on unless we want to share our boat snacks with him!"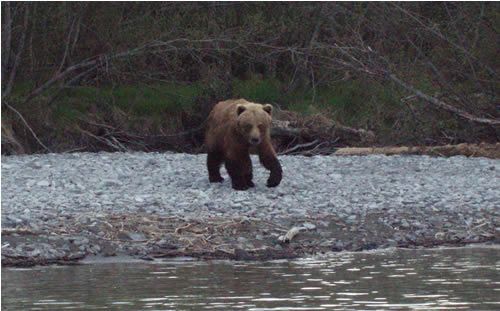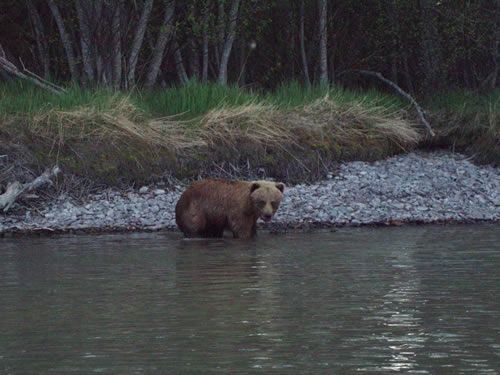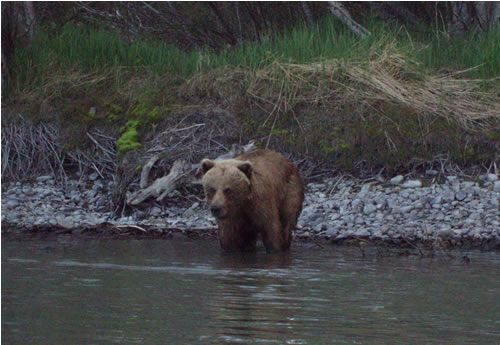 May 18, 2007–"Clam tide="Minus" 5 Feet!"
"…nothin' like a minus tide to wake up our sleepy little fishing village, and cause a surge of southbound traffic to the even sleepier fishing villages of Clam Gulch & Ninilchik, about 40 miles south of Soldotna! This past week has been the biggest "Clam Tide" of the summer, with tides ranging down to almost a negative 5 1/2 feet, exposing more of the clams beds this area is famous for than usual. After a bumpy ride down the beach from our favorite access point at mile 131.5, we hit the beach early, as the tide was still falling, giving us a jump on these longnecked Razors–Siliqua patula. With a force of 15, including some young boys & girls that were eager from the get go, we clammed until we couldn't feel our fingertips, and then clammed some more for good measure. On the proverbial "last cast", Seth and I dug a trench big enough to crawl into, and excavated over a dozen of these golden shelled letter openers! The fun was followed by hours and hours and hours of dipping, shucking, zipping, slicing, rinsing, packing, and drinking (did you know that warm beer can help stave off hypothermia? Julie did!)! A great feast followed, with some hot clam chowder, spiked with Alaska side-striped prawns, panko fried clams, and garlic clam saute. Mouth watering yet? The season is young, and I'm hungry like a bear that just crawled out of the den!"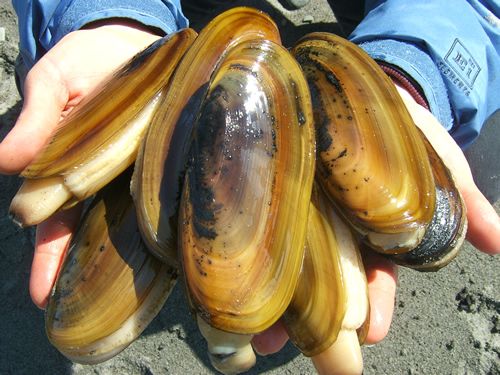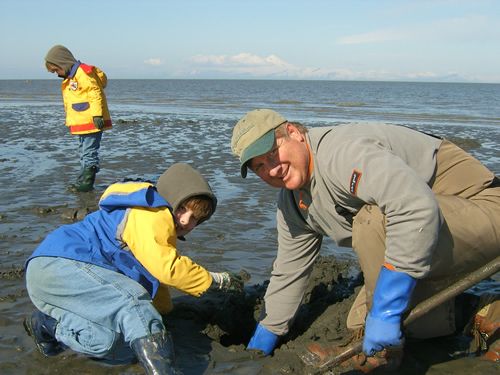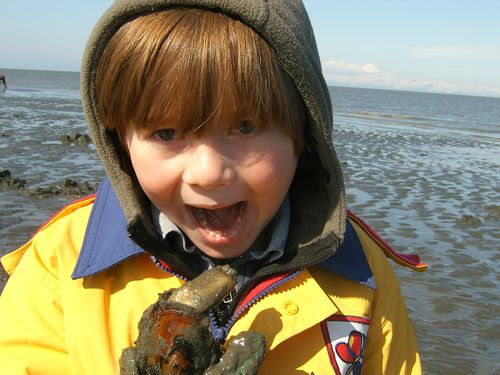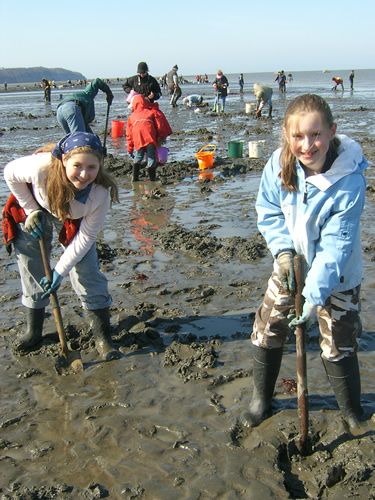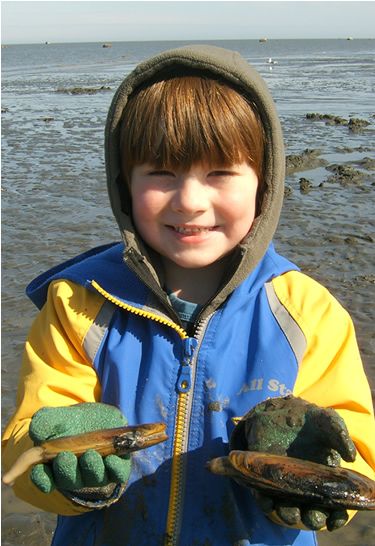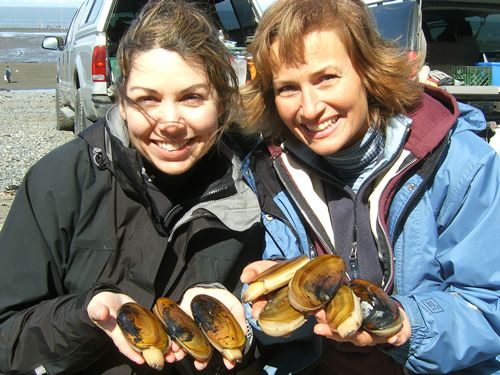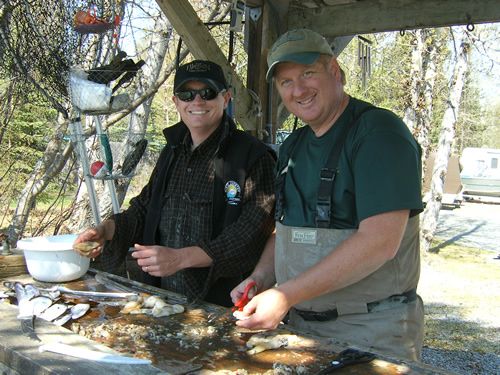 May 13, 2007–"Mother's Day First Fish: thymallus arcticus!"
"…one of the highlights of our 1,200 mile Mother's Day motohome marathon (aka. our pre-season family camping trip), was this beautiful catch by our eldest daughter Jillian! This Arctic Grayling, caught in the Chena River on our return from soaking in the world famous Chena Hotsprings near Fairbanks, was the first ever caught by anyone in our family! You see, while we have a lot of fish on the Kenai Peninsula, you don't find Arctic Grayling, except for in some of the high alpine lakes which are limited by either fly in access or a hearty climb up and over the mountain. So this was a special fish, on a special day, and Mom couldn't have been prouder. The joke around here now is that since we went fishing on Mother's day we have to go shopping on Father's day….maybe I can slip out before anyone wakes up!"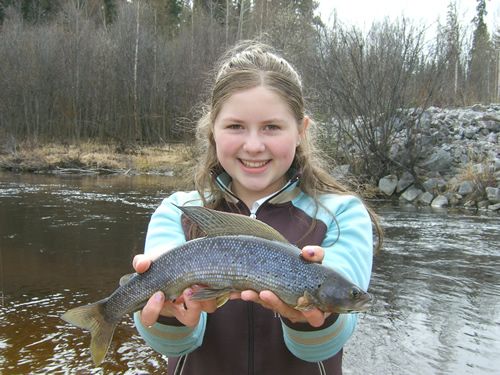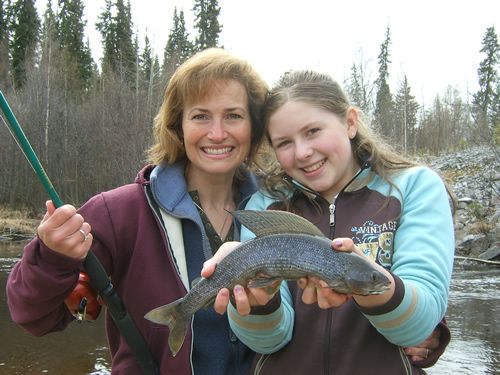 Wanna see more??? Visit our 2003, 2004, 2005, or 2006 Fishing Blog Pages!
Let us know if you want us to book a salmon or halibut charter for you soon!