Alaska is home to more public lands than any other state in the country–including amazing National Parks, Preserves and Refuges. Visiting all of Alaska's National Parks in one trip to Alaska would be a massive undertaking, but we hope you'll make plans to visit at least one on your next Alaska Dream Trip. Beyond Alaska's famous Denali National Park, which is often pushed to the max of capacity by summer crowds (we recommend visiting in autumn), Alaska boasts many other national parks that are unique, breathtaking, uncrowded and untouched.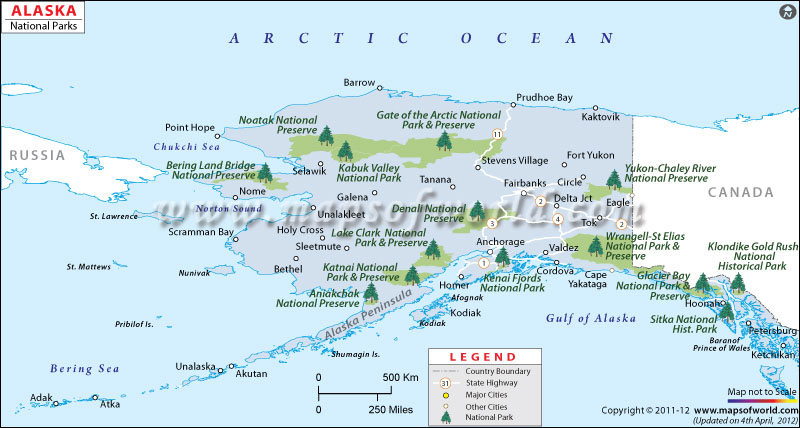 We hope our synopsis of Alaska's National Parks below will help your family plan to visit one of Alaska's National Parks on your next visit!
Kenai Fjords National Park-The closest of Alaska's national parks to the Kenai River, just 90 miles to the northwest, accessed from the port of Seward. Many options to explore this national park including glacier/whale watching cruises, sea kayaking adventures, helicopter and airplane flight seeing, cruise ships, hiking, private boating, saltwater fishing, and more. The Kenai Fjords National Park 6 hour Glacier/Whale Watching Cruise is our #1 recommended and requested day trip!
Kenai National Wildlife Refuge-1.92-million-acre wildlife preserve located on the Kenai Peninsula adjacent to Kenai Fjords National Park.
Kodiak National Wildlife Refuge-Kodiak: the "Island of the Great Bear." Genetically distinct, Kodiak brown bear inhabit the wild, rugged Kodiak Archipelago in the Gulf of Alaska, 252 miles southwest of Anchorage. Inspired by concerned sportsmen and conservationists, President Franklin D. Roosevelt created Kodiak National Wildlife Refuge in 1941 to protect Kodiak bears and their habitat.
Lake Clark National Park & Preserve-A wilderness of indescribable beauty with active volcanoes, salmon runs, mountain landscapes, alpine lakes, and minimal impact from man or human settlements.  Find peace and quiet amidst the mountains, lakes, rivers and wildlife.  If you like it wild, Lake Clark National Park is for you!
Katmai National Park & Preserve-Bears & volcanoes! Katmai National Monument was established in 1918 to protect the volcanically devastated region surrounding Mount Katmai and the Valley of Ten Thousand Smokes. Today, Katmai National Park and Preserve remains an active volcanic landscape, but it also protects 9,000 years of human history as well as important habitat for salmon and thousands of brown bears.
Wrangell-St. Elias National Park-America's LARGEST National Park, Wrangell St. Elias is a vast national park that rises from the ocean all the way up to 18,008 ft. Mount St. Elias. At 13.2 million acres, it's the same size as Yellowstone Nat. Park, Yosemite Nat. Park, and Switzerland combined!
Glacier Bay National Park-Sountheast Alaska's premier attraction, covering 3.3 million acres of rugged mountains, dynamic glaciers, temperate rainforest, wild coastlines and deep sheltered fjords, Glacier Bay National Park is a highlight of Alaska's Inside Passage and part of a 25-million acre World Heritage Site—one of the world's largest international protected areas.
Gates of the Arctic National Park & Preserve-This vast landscape does not contain any roads or trails. Instead, wild rivers meander through glacier-carved valleys, caribou migrate along age-old trails, endless summer light fades into aurora-lit night skies of winter. It remains virtually unchanged except by the forces of nature.
Kobuk Valley National Park-Caribou, sand dunes, the Kobuk River, Onion Portage – just some of the facets of Kobuk Valley National Park.
Noatak National Preserve & Wilderness Area-One of North America's largest mountain-ringed river basins with an intact ecosystem, the Noatak River environs feature some of the Arctic's finest arrays of plants and animals.
Yukon – Charley Rivers National Preserve-Explore the waterways in this largely untouched landscape.
Bering Land Bridge National Preserve-Whimsical, magical, remote.
Denali National Park & Preserve-More than just the mountain.
Alaska has many other national  monuments, parks, and wilderness areas to explore as well. If you have a specific interest please email us at visitus@thealaskadream.com.