The Kenai Peninsula is a great place to get away from it all in winter on the many nordic cross-country ski trails that are found from Seward to Soldotna to Homer.  You can stay at Kenai Riverfront Resort and enjoy a warm sauna every night after skiing the groomed local trails or after taking day trips to groomed trails in Homer, Nikiski, or Seward.  More remote areas including Cooper Landing, Summit Lake, or any number of locations offer unmaintained trails for both nordic trekking and back-country or telemark skiing.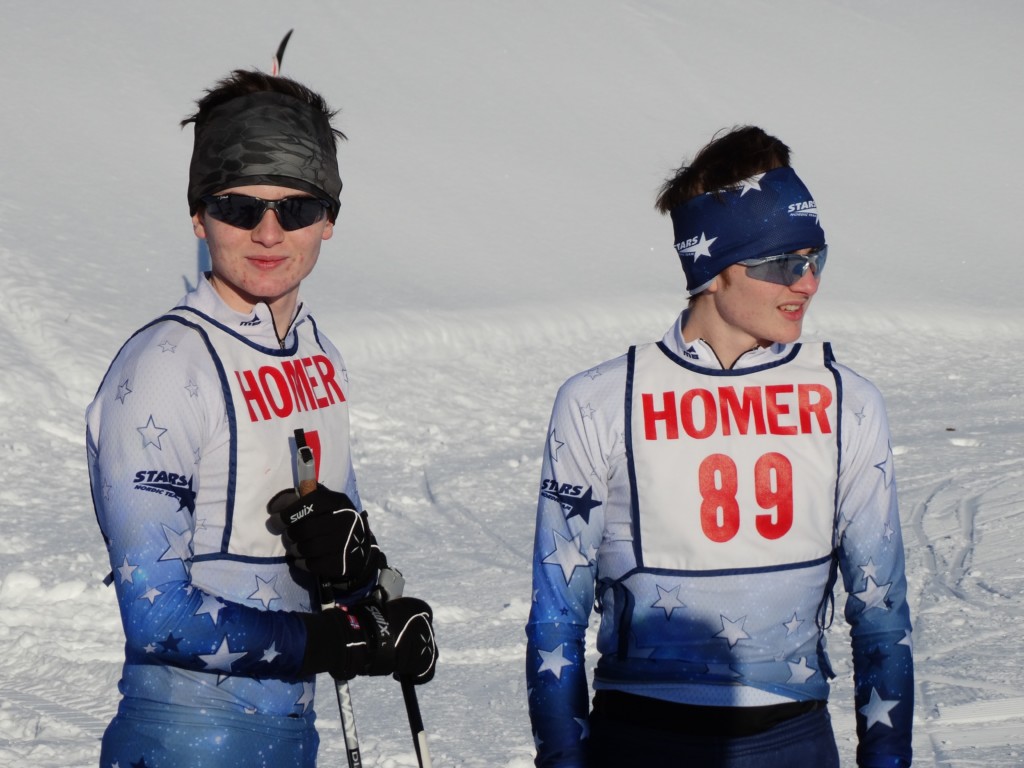 Here's a list of groomed & maintained nordic ski trails on the Kenai Peninsula:
Kenai/Soldotna–Central Kenai Peninsula
Tsalteshi Trails–Located at Skyview Middle School, south of Soldotna on the Sterling Hwy just 1.5 miles past the K-Beach intersection, turn right into the school parking lot and drive to the back side of any of the parking areas for easy access to the trail head.  Approximately 15km of groomed trails, challenging terrain, mostly wooded with birch, spruce, and cottonwood.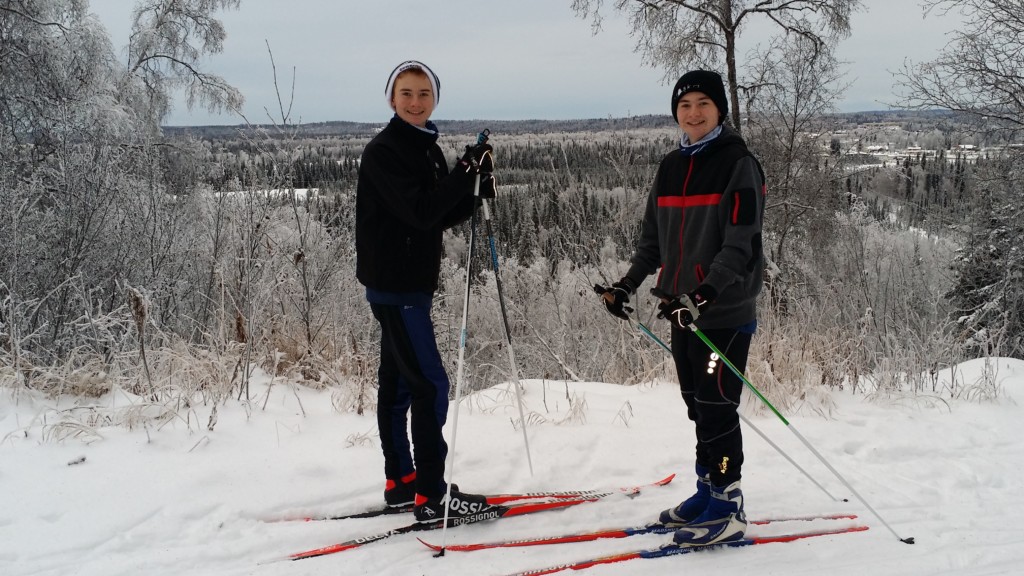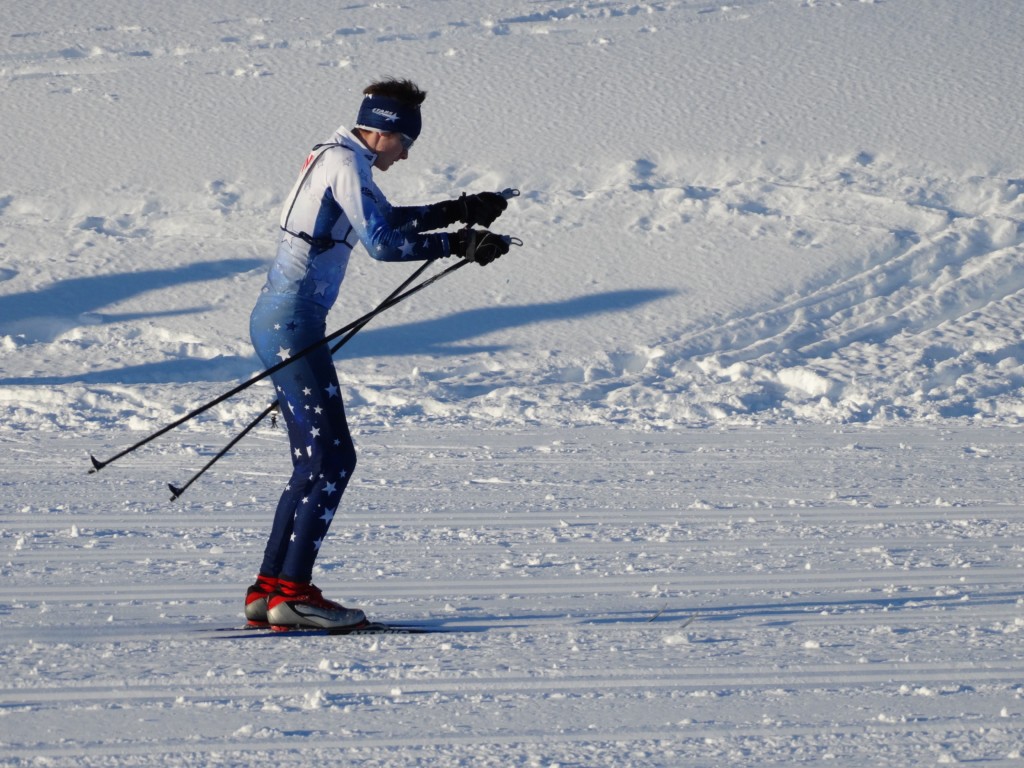 Kenai City Trails–Maintained by the City of Kenai, and located on the Kenai Golf Course.  Take the Kenai Spur Hwy into Kenai, turn left on North Tinker, which is the first traffic light you find, just before Kenai Central High School & Middle School.  Follow this street to the next stop sign, turning left on Lawton Drive.  Drive approximately 1 mile to the Kenai Golf Course parking lot on the right hand side.  The open terrain of the golf course offers nice views toward Cook Inlet and the mountains of the Alaska Range and Mt. Redoubt.  Some challenging hills, and a total of about 5 km of well groomed trails.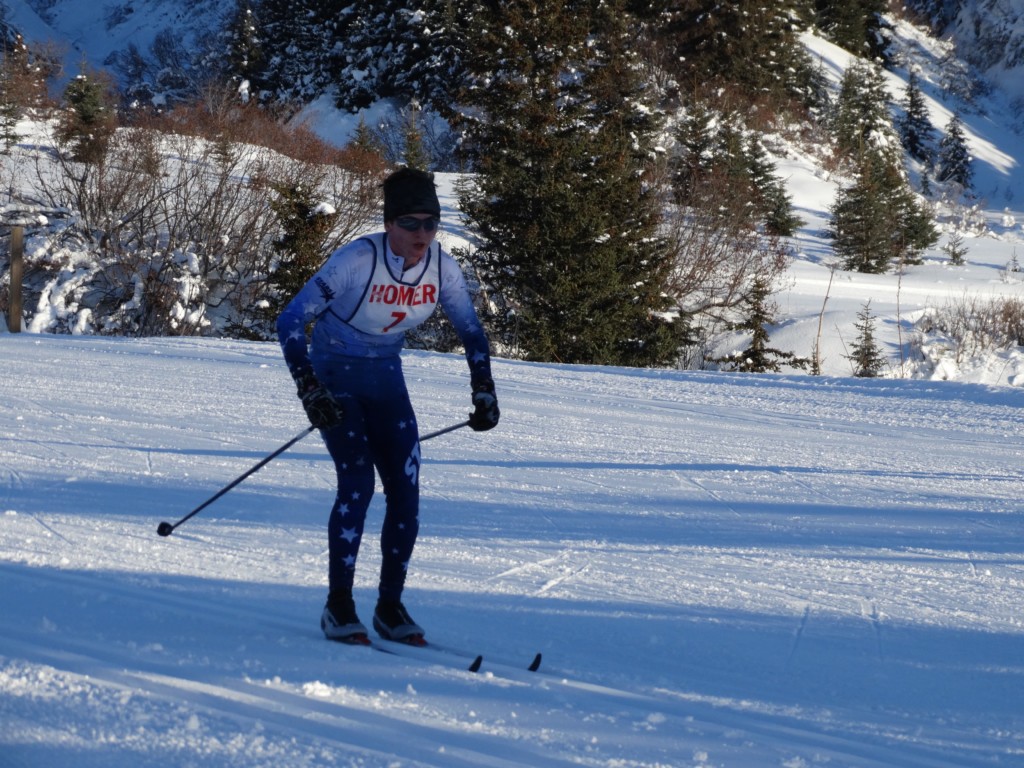 Kenai National Wildlife Refuge–Located off Ski Hill road on the south end of Soldotna.  Turn left on Funny River road and turn right immediately on Ski Hill road in front of SBS.  Follow Ski Hill road just 1/2 mile or so and turn left into the Kenai National Wildlife Refuge HQ parking lot.  Maps and information available on-site.  Trails wind through beautiful forested areas along the lake.  has maintained ski trails since the 1960's. Today, four loops are available for day use only, the longest of which is six miles. When the Headquarters Lake freezes, there is also a 1.5 mile trail that follows the Lake's perimeter. Call Mark Laker, Refuge Groomer at 907-260-2809 or the Refuge front desk at 907-262-7021 for conditions and grooming reports.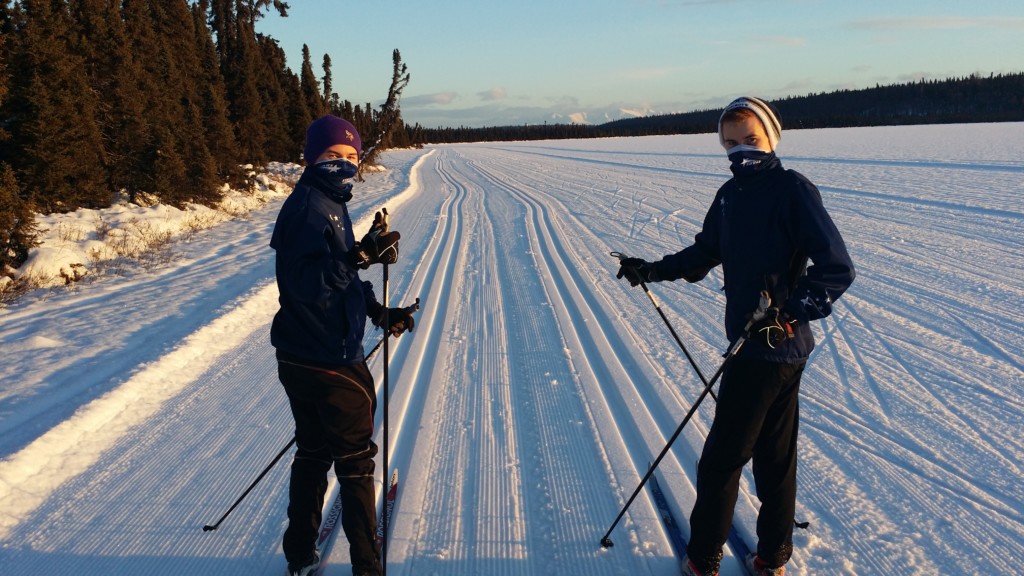 Nikiski–Central Kenai Peninsula North
North Peninsula Recreation Center Ski Trails–Located approximately 20 miles north on the Kenai Spur Hwy from Soldotna, this smaller trail system has the added benefit of being colocated at the Nikiski Pool, a pseudo waterpark with waterslide, lap pools, kiddie pools, diving boards, all for a small $9.00 fee.
Nikiski Community Trail–Located adjacent to the Nikiski High School, a bit further up the Kenai Spur Hwy, turn left near the far end of the small highway town of Nikiski.  Available for cross-country skiing in the winter and jogging or walking in the summer. Pets, bicycles, and motorized vehicles are not allowed on these trails. Seward–Northern Kenai Peninsula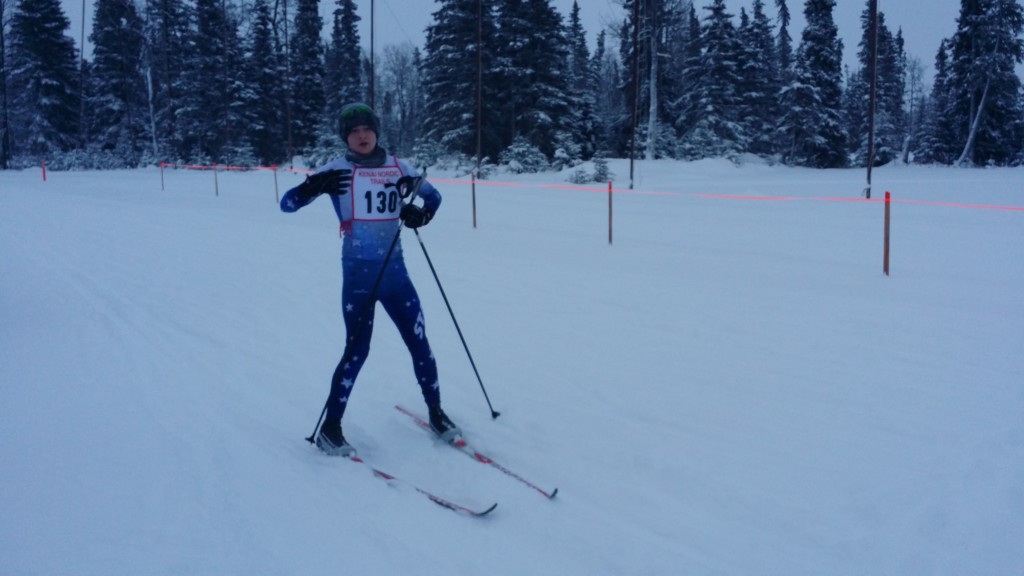 Homer–Southern Kenai Peninsula
Kachemak Nordic Ski Club–With over 70 kilometers of groomed trails, with real-time grooming reports, in the Homer area at the Baycrest, McNeil Canyon-Eveline, and Lookout Mountain trail systems, Homer is another great nordic skiing destination on the Kenai Peninsula. All three areas are groomed for classic as well as skate skiing and are located close to the town of Homer. Each area offers varying terrain with opportunities for panoramic views of Kachemak Bay and the Kenai Mountains.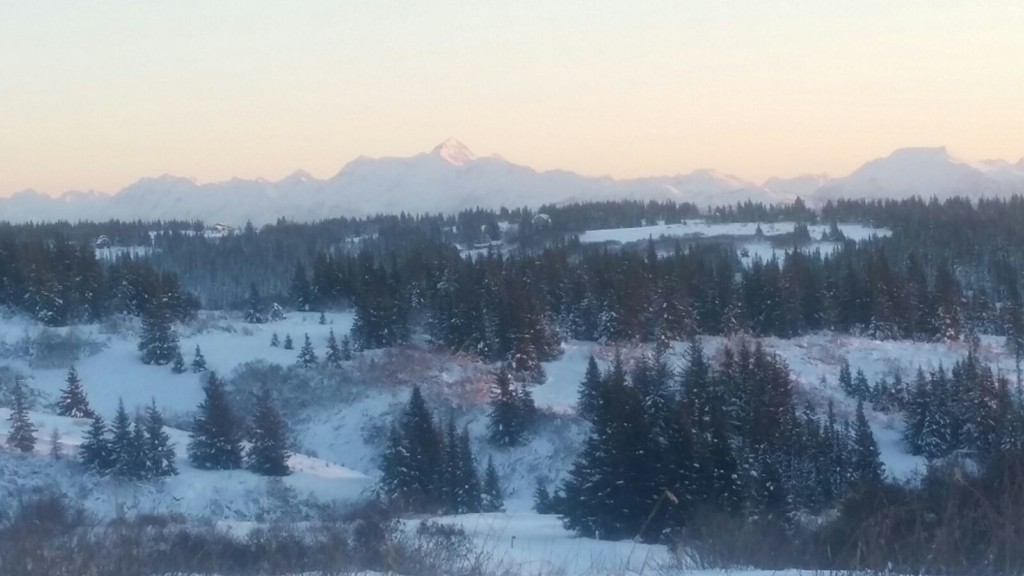 Lookout Mountain in winter glory with mountain-scape backdrop!
Seward–Northern Kenai Peninsula
Seward Nordic Ski Club–Located at Mile 12 of the Seward Highway, the Seward Nordic Club has been active for over 20 years, developing nordic ski trails for local residents. The club designed and constructed the trails at Mile 12 of the Seward Highway. These trails are designed in accordance with Federation International Ski standards and are suitable for national and international ski competitions.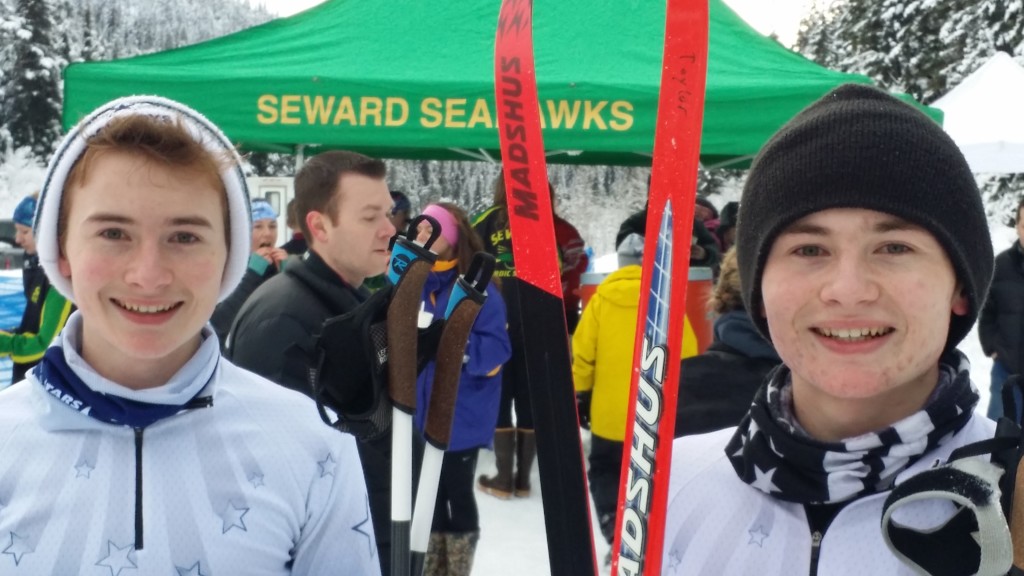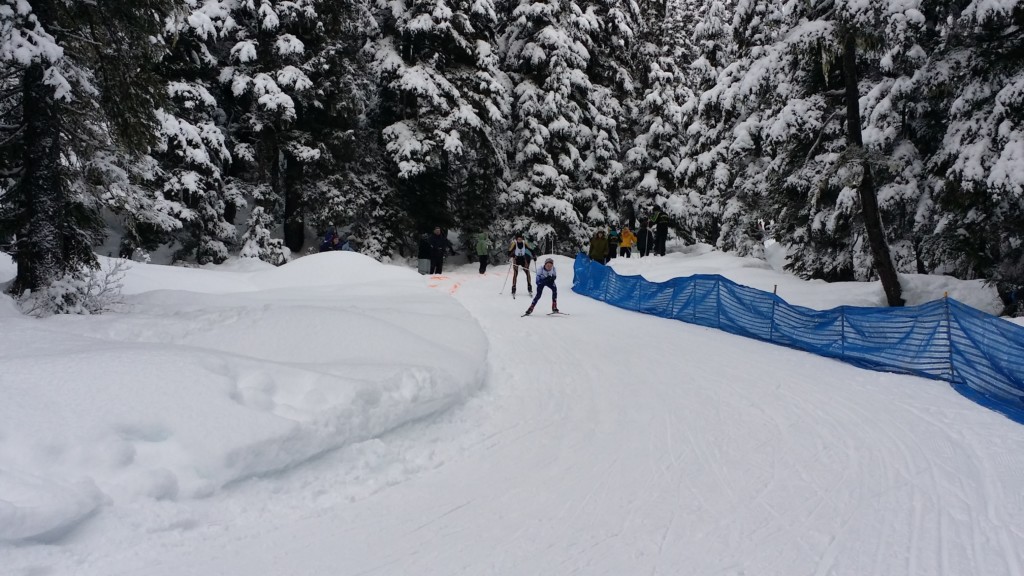 Cooper Landing Nordic Ski Club Trails–Offering trails at the Russian River Campground, with classic track when possible, and other groomed trails in the Cooper Landing are (including the trail to the Russian River falls) surrounded by the beautiful mountains this area is well known for.