The #1 Alpine Ski Resort in Alaska is Alyeska Resort, located a short 1/2 hour drive south of Anchorage, overlooking the waters of Cook Inlet's Turnagain Arm, and nestled in the quaint Girdwood valley once famous for gold mining. From Kenai Riverfront, the drive is a very scenice mountain drive north of us by 1 1/2 hours. Full service lodging at The Hotel Alyeska at the base of the Tram and Chair 7 is your best choice for lodging. Local B&B's and Condos are available too if you prefer. The hotel offers an excellent swim center with Sauna & Jacuzzi as well as several restaurants and adjacent nordic ski trails.
Our family pictured below is halfway down chair 7 lift overlooking The Hotel Alyeska.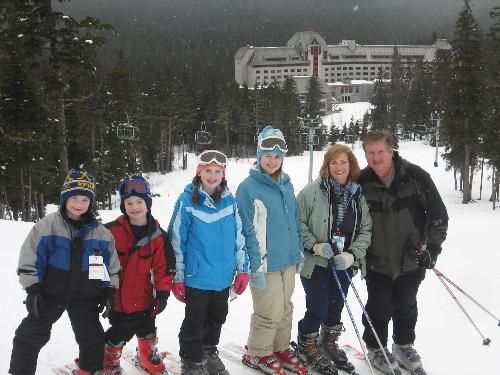 Other minor Alpine ski areas can be found in Anchorage at Hilltop Ski Area and Alpenglow Ski Area at Arctic Valley, but they are best suited for very beginner skiers.
In the Palmer/Wasilla area of the Matanuska Valley, oft compared to the Alps of Switzerland, you'll find only one developed area so far, Hatcher Pass Resort, offering nordic skiing, back-country skiing, sno-cat skiing and someday soon an Alpine resort we all hope! (It's been in the works for ions.)
In Valdez, across Prince William Sound, overlooking this majestic body of water, you'll find the home of the annual Extreme Skiing Competition, and some incredible heli-skiing opportunities with Valdez Heli Camps or H2O Guides. In the same area you can find Snowcat skiing with Thompson Pass Treks. Valdez, Alaska consistently receives more snowfall than any other area in the whole of North America! Warm Japanese currents push into the open Prince William Sound seaport Village of Valdez, bringing with them warm moist air. These same currents that keep Valdez uniquely mild in winter, build and flow over the Chugach Mountains, eventually mixing with the cooler interior Alaska weather currents producing amazing snowfall amounts.
In Fairbanks Mt. Aurora Skiland and Moose Mountain offer the northernmost Alpine skiing in North America, and though it's cold in the winter down in the city of Fairbanks, the ski resorts are higher up where they benefit from a temperature inversion yielding balmy temps in the 20's & 30's typically. Add to that the fact that Moose Mountain uses nice warm cozy buses instead of chairlifts to get you back up the mountain, so you're less likely to experience hypothermia whilst heading up for your next run!
In Juneau you'll find Eaglecrest Ski Area, overlooking the ocean above Juneau offers skiing in deep snow for all levels and abilities each season through early April.
Heli-Skiing, Back-Country Skiing, and Snowcat Skiing opportunities can all be found through operators based out of Anchorage and Girdwood (Mt. Alyeska).
Given the mountainous terrain of our state, you'll likely find many more ski areas developed in the coming years. Up till now, our small human population hovering just around 500,000 has limited such development. As winter tourism and the general population are on the rise we can expect to see many more skiing options on our glacier covered mountains that rival the Swiss Alps.